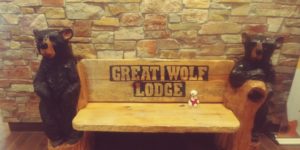 Great Wolf Lodge is a fantastic resort destination.  It's 100% geared towards families.  You don't even have to leave your resort, as everything you need is right there, from food to accommodations, to entertainment, you can simply spend your entire trip at the resort.
I personally spent time at the location in Bloomington, MN, however, there are 17 other locations around the USA, as well as one Canadian location.  The resort in Bloomington is located 5 minutes from the Mall of America and offers a variety of suites for all different family sizes and budgets – from standard family suites with one king bed or two queen beds to family suites with bunk beds. The resort also offers eight on-site restaurants serving breakfast, lunch, and dinner. Included with your stay are: Water Park Passes (exclusive to resort guests), unlimited WiFi (resort-wide), fitness centre, kids activities, story time (with character appearances), and a lobby show called, Forest Friends.
The staff at the resort are very friendly and welcoming and were great with the children. When you check-in you will get an itinerary with all the activities that will be taking place during your stay (from character appearances to PJ parties and story time), and the children are given a free pair of wolf ears.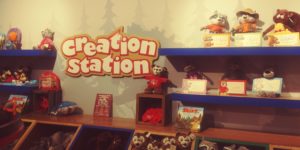 The resort offers a very large water park area. They also offer wave pools, lazy rivers, splash pads and water slides. The lifeguards on site are continuously pacing back and forth watching over the swimmers, taking their jobs very seriously. The water park is heated to 84 degrees but the rest of the resort isn't, so I recommend taking a towel or cover-up from your room.  Towels are available
in the water park area, however they must remain in the water park, as they are only available for use while you are in the water park.
The resort offers many different activities to keep children (& adults) busy.  There was a large arcade, a small bowling alley, a rustic climbing wall, Creation Station (very similar to Build-A-Bear, but with Great Wolf Lodge characters), and much more! The halls are filled with interactive games (MagiQuest) which can be brought to life with a magic wand.
When you book your stay, you will have the option of adding a Paw Pass.  I do recommend pre-purchasing this, as it will save you a bit over purchasing locally at time of check-in. The Paw Pass takes many of the extras listed above (MagiQuest game & wand, arcade paw points, stuffed animal souvenir etc.) and package them together at a discounted price. So, if you plan on taking part in some of these activities (and you will), the paw pass is a great way to save some money.
I would definitely recommend Great Wolf Lodge for young families. I know we'll be back!