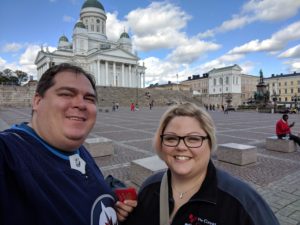 Written by Martyn Cook with the help of Shauna Cook
The hotel is bustling with people. The lobby has groups of people with laptops open, discussing subjects that elude context and understanding. We make our way to the breakfast bar which is just off of the lobby. A lovely mix of old brickwork and contemporary furniture gives a lovely vibe of traditions held, living alongside new. The smell of breakfast offerings dances in the air, a greeting for our senses. I find the usual fair of cheese, crackers, bacon and eggs, as well as the object of my desire, local delicacies. I try a pastry with rice in the middle which is traditionally served with butter mixed with eggs. They have ginger snap type biscuits, and an Oreo type cookie that contains a minty filling. The last local offering was a candy that had a fox on the label, it was a gummy candy that was given out by grandmas, information that I garner from local sources. We leave the hotel, making our way down the cobblestones to Senate Square to join our free walking tour. We are greeted by Sara, a young history student passionate about her city and its history. We walk the streets learning about Finland's Germanic influenced buildings, the religion, political, and social struggles, and successes of its people. One building stands out to me on the tour, The Think Company. It's a public space like a library, it has a cafe, bookstore, and free wifi. This place is free to go into, and you can take in a lecture, or discuss ideas for social change. This is why I love the Nordic countries, they inspire creative thinking; Ideas surrounding use of taxes, social programs, and the general health of the country are discussed and debated.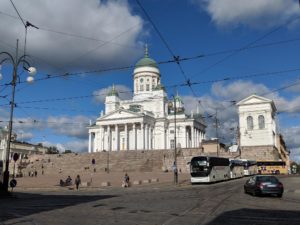 As the tour wraps up we are left in the warmth only knowledge from a local perspective can provide.  Experiences and adventure await, so we waste no time in boarding a city sightseeing bus. The  familiar voice of a proper British gentleman that provides vocal services for all the bus tours I have been on, guides our experience. We scoot along old roadways lined with stories laying just behind each and every door; stories of tragedy, of love, deceit and freedoms, struggles over come, and lives forfeit. I watch people going on with their days, and wonder what they do for work,  wonder what unique experiences they have; wanting to talk with everyone, but talking to none. My mind wanders as I hear about all the stories of the city, knowing that it is only the surface of the stories that can be told. I imagine days gone by, changes throughout the city. Days are gone of tall ships with sails aflutter and the sounds of a busy harbour front. Today, the liveliest thing on the harbour front is a ferris wheel over looking the harbour and perhaps also the boats that ferry people to island ports throughout the archipelago. On the ferris wheel, we learned from Sara, one of the cars is a sauna, and another is known as the champagne car. Both are probably a great time, but above our budgets; we have champagne tastes, on a beer budget.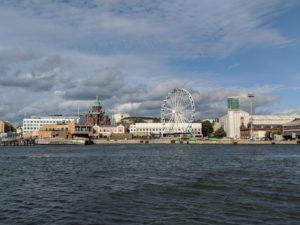 The cost of our Finnish adventure is even now above even our expectations. Beer is a luxury and is heavily taxed here, running between 8 and 12 dollars, so it becomes a treat with a meal. The street food, and what the locals eat, is quite reasonable, but if you are looking for a taste of home, you will pay the price. Most places in town we saw were lesser known chefs whom are creating lovely food or chain restaurants that are European in origin. We find one of the chain restaurants, which is an Italian place; the food turns out to be of good quality, there were no surprises. We find those meals are the best you can hope for with little research. While heading from the bus tour towards our lunch choice, we find ourselves engulfed in a crowd of college students. Their overalls, or coveralls, are emblazoned with screen printing or patches; their megaphones blaring with chanting. It is a peaceful protest regarding taxes and school fees, or something of the sort. We get many different versions of what they are protesting from the people at different sightseeing tour stops. We hop back on the city sightseeing tour bus, riding it around for one last loop.
Travelling back to our hotel we get a compliment on the Winnipeg Jets jersey I am wearing (yes, I was pandering to their love of hockey). It turns out the person was someone Shauna used to work with in Banff when we lived there. It puts in perspective how small the world is. We head down to revisit a portion of our walking tours attractions from earlier: The old market. A little artisanal market with pastries, canned bear meat, pickled everything, fish, cheese, coffees, and homemade gifts. We try the cake that was explained to us as the fanciest cake you can get in all of Finland, it is not eaten often, but if you have that cake at your party, people talk about the fact you had this cake. The cake is called Ellen, named after Ellen Svinhufvud, a spouse of Pehr Evind Svinhufvud, the third president of Finland. It is a delightful almond cake that is light and just sweet enough.
We head back to our hotel, and rest for a spell before we gather our things and head down to our waiting taxi. Adventure awaits and Loyly is our destination. The cab driver is younger, in his early 20's, we ask him about the demonstration earlier in the day and we get yet another explanation; it is the college students returning to studies and they get a little crazy, drinking, dressing up, partying. On the last loop of the bus tour, we saw groups of these overalled students throughout the city with newspaper hats upon their heads, not yet visibly drunk. This little morsel of information turned out to be a common theme on our following stops in our travels.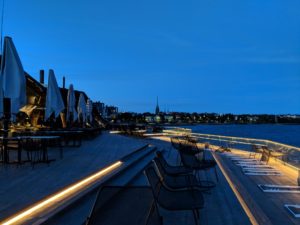 We arrive at our destination. Loyly translated from Finnish to English, is the steam that rises from a sauna or, the heat in the sauna. It is also a traditional Finnish sauna. This is the place to be if you are a tourist; for one simple reason, it's co-ed. So if you are travelling as a couple, which most people do, you are not split up to try and make new friends while dressed in your "all togethers" as my grandfather would say (meaning in the nude. He calls it your "all togethers" as there are no seams, and he is a cheeky bloke). The idea of that, to my North American mind, makes it recoil in horror and hide in a corner shivering… fully clothed. You do go through the change room and shower process just as you were going to the pool in North America. Then, with bathing suits donned, we emerge from the showers, separately, but ready for a good sweat. As it turns out, I'm not a fan. Shauna, on the other hand, loved it. There are two types of saunas in this place, the first is the typical sauna, not much detail is expressed in that from the front desk staff, as it is not Finnish. The second, is a wood burning smoke sauna which they spoke at great length about. There is a hoodie-wearing sauna attendant, whom answers all your questions, helps you avoid any faux pas and generally makes sure there are no unconscious people knocking about. You can order beers, or drinks if you wish. The building is stunningly beautiful, with the Scandinavian architecture making a bold statement. Glass and wood run rampant, turning at amazing angles, and together remarkably beautiful. The views from the balcony overlook the Baltic Sea (where we did submerge ourselves). In my opinion, even a toe in the Baltic is enough to say you have been in the Baltic. Myself, I went to my equator, and then my sensibilities returned with due haste. It was not unpleasant, but rather refreshing. My time in the saunas was brief, spending most of my time waiting for my wife to emerge from the smoke sauna. With your entrance, you are allowed two hours, this is to keep the crowds down, which was very wonderful. It lead to a wonderful atmosphere where it did not feel overcrowded. There was a lounge where you could sit around a fireplace. People leaving their phones in lockers was just a very welcoming highlight, encouraging a more engaging experience. A group of friends in their 50's migrated as a group from one sauna to another, with a Finn showing them how it's done. He was speaking English to the group so I was able to sit back and enjoy their conversation.  A group of mid-20's Japanese men really made me in awe of the wonder, and immerse myself in the experience. They embraced all facets of the experience and almost ran from the saunas to jump in the Baltic, then hustled back in to a sauna. We met a few other nice couples and overall I was glad I did it, but once again… saunas, not my thing. I enjoy sweating at the gym, and I am told it is to make your skin soft. I have no issue with soft skin, I am wrapped in it, much too Shauna's jealous envy of it. As for sweat, I prefer to be lifting weights or on a recumbent bike. Regardless, I am glad I was able to enjoy a Finnish sauna in Finland, and I would highly suggest trying it.
As we retire for the day, we think of tomorrow when we will have to leave this wonderful city. We had very little expectations for the city, but we found ourselves endeared to it. We found the people like a snow capped volcano. Cold and unmoving at first glance, but with a warm fierce lust for life on the inside. The city is beautiful, and with low tourist traffic in the shoulder season. We had a great time, and felt like it was an untapped jewel on our travels. We felt welcomed, and were met with a genuine and authentic experience. Those are the things that are important to me as I travel. I want to feel like I am part of the place I visit, not just an insider looking in. I want connections, and moments of pure honest interaction. I felt that in spades, for my sake give Helsinki a pass, so I can keep it just for my enjoyment. We leave Helsinki by ferry on our way to Tallinn in Estonia in the morning. My only thought is what else the country holds, for my trip to Helsinki has filled my soul with joy and wonder for what the other countries will bring.