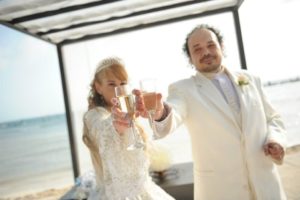 I must confess, being new here at the agency and when asked for a blog entry I immediately intended on writing about my vow renewal (wedding) in Isla Mujeres. Meanwhile Nicole was faster than me and wrote about her beautiful experience getting married in California and I was in doubt if it would be the right choice to write about a wedding theme again, but as both experiences are so different and the locations and ceremony types so apart, I decided to keep my original plan. As such, let's go.
Isla Mujeres is a Mexican island in the Caribbean Sea, 13 kilometers off the coast from Cancún. Only reachable by boat, a 20-30-minute ride, it's a vacation destination known for beaches such as northern Playa Norte, resort hotels and for snorkeling and scuba diving on the surrounding coral reefs. At Punta Sur, the southern tip, there's a lighthouse, the remains of a Mayan temple and a sanctuary for sea turtles.
After an excruciating immigration process that prevented me from leaving Canada for four years, under the risk of not being allowed back in the country, we surely had the time to make a huge research and pinpoint exactly what we wanted and needed for our "real wedding", as our 2010 wedding was only with the justice of the peace officer in a small ceremony with family and it wasn't what we had envisioned at all. Being beach bums, both of us, the very first thing we decided was that we wanted it to be on the beach and it would be only the two of us, the spiritual significance of this moment was deep and probably would only reflect our own feeling about it.
That said, I must have researched hundreds of resorts all over Mexico and the Caribbean, from Antigua to Mustique, from the Dominican Republic, through the windy beaches of Aruba, to the almost deserted Tobago Cays, I must say, I know them all, I gathered detailed information and even these days if you name a place in the Caribbean where you'd like to have your wedding, I will probably be able to quote you without even consulting any material.
We ended up choosing Isla Mujeres due to the seclusion and the peace we were looking for and to be honest, because we were so tired that the flight time was a big factor for us, we wanted it close, no connections, minimal fuss.
After the location was chosen, we needed the most important thing of all, the venue, the resort. Most of them, not to say all, have wedding packages or vow renewal packages. We opted for Palace Resorts, The choice was based on the fact that their basic package was free and full of perks, ideal for two people only. If we decided later to have some add-on features we could always request them and have it for a fee. Very important as well was the fact they assign a wedding specialist that will work with you down to the most intricate detail if necessary.
Isla Mujeres Palace is located in Isla Mujeres, Spanish for Island of Women. This charming island town showcases Mexico's charm at its finest and is ideal for couples seeking a wedding that's off the beaten path. The small and intimate couples-only resort boasts 62 luxurious rooms with the finest amenities and is the picture-perfect backdrop for weddings.
We arrived in Cancun and had a private car sent by the resort to pick us up and take us to the Isla Mujeres Palace private yacht that would then transport us to the Island, a service that still runs today.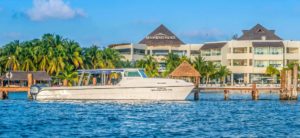 The room was good, actually, the pictures don't do it justice. We got a concierge ocean view room (in this resort the ocean front is reserved for diamond members) and it is much larger than it seems in the pictures. The double Jacuzzi is great, the balcony is big with a lovely view. Top shelf liquor in the room, a well-stocked mini fridge, some snacks, coffee maker, etc. Double Vanity in the bathroom, indoor Mayan shower—everything's perfect.
That night we ordered room service, way too tired, food was good, but here is some advice: always order the double or triple because the portions are small. The fajitas for instance: instead of 2, order 8 and you'll be ok.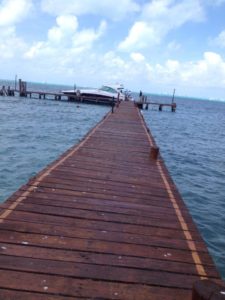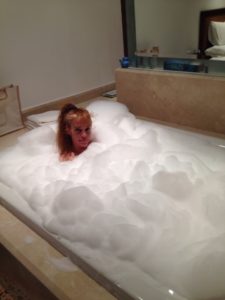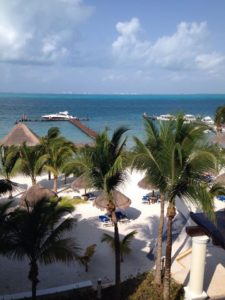 We booked the ceremony for two days after our arrival, so we could have time to decompress and rest. Our wedding coordinator, Mr. Mario Yham (thank you for everything) was often in touch with us, by phone (he was a Beach Palace resident in mainland Cancun) making sure everything was going smoothly. He was even kind enough to walk the bride to the ceremony place (we chose the beach, obviously, we might have opted for other spots within the resort).
Everything looked amazing, they really go the extra mile to make your occasion exactly as you dreamt. We had no guests, as such we didn't need the chairs for them on the beach; we had the small gazebo where the ceremony would occur only, very subdued but also very quaint.
In case you're wondering, yes, it was really hot, but it was worth every second of it.
The bride's hair and make-up were done at the resort, taking advantage of the $1500 USD resort credits you get when you book at Palace Resorts. Included in the package is your wedding cake, in this case smaller, as it was just the two of us. You are given several choices, or you may customize it to your own taste. Champagne is included, right after the ceremony.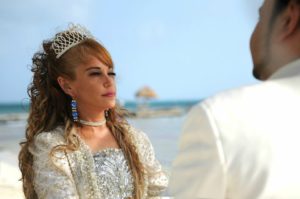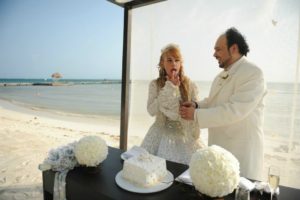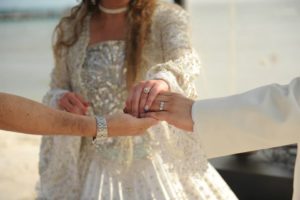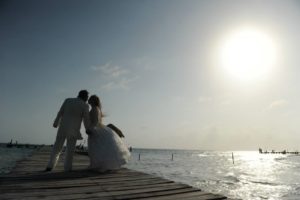 The resort also offers a photography package, not complimentary. We opted to bring our own photographer, based on reviews all over the internet. Our choice was Cecilia Dumas. She is amazing, super-sweet and as you may see, amazingly talented.
The package included a semi-private dinner for 30 guests, but our wedding coordinator he offered us a private dinner on the beach just for the two of us as we had no guests. It was probably the best dining experience of our lives—the menu, the location and our dedicated server. They also decorated it only for us, it was magical.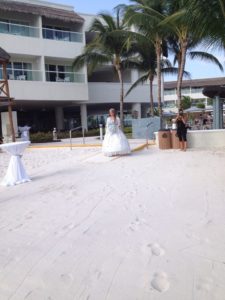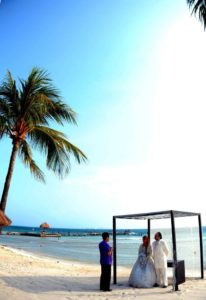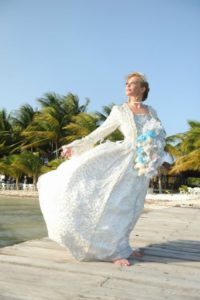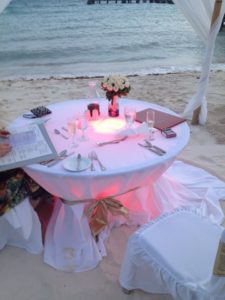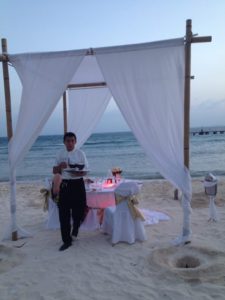 Visiting Isla Mujeres, where the people are amazing, so warm, always ready to help and with a smile on their faces. Visit the Garrafon Park for some extra fun, zip lining or water activities at their large pool or head to the turtle farm and watch them hatch (if you're lucky).
And of course, if ever in the Cancun area, the Underwater Museum, the snorkeling tour that you'll never forget, a scenic ride to the submerged installation site, located just off Isla Mujeres. Containing more than 500 life-sized figures designed by British artist Jason deCaires Taylor, this unique art collection can only be viewed underwater.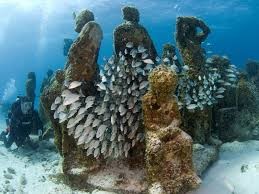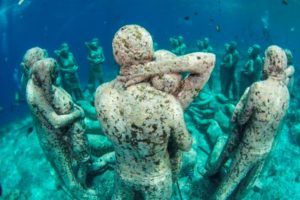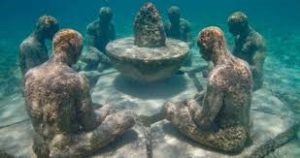 I thank you for reading, I know it was long. On a personal note, I could have written about a more recent trip, but as a professional of this industry, in my humble opinion, travelling is an emotional experience. It's all about the memories you make and you really want it to be perfect and the closest possible to what you imagined. I had many trips before and I confess I already had a few after, but this one, for obvious reasons was the one I wanted to share.
If you wish to know more about your own wedding on the beach (or at a resort) please contact me at John@gctravel.ca. I will happily make your dream wedding come true as well.
See you soon.