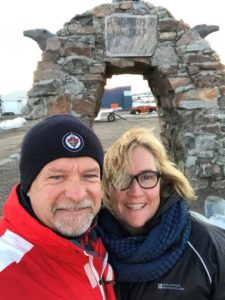 Ian & Margot in front of Arctic Circle Marker, Naujaat
I was escorting a group of clients to venture out to the Floe Edge in the community of Naujaat, Nunavut (formerly Repulse Bay and translated as "seagull nesting place") and to celebrate National Indigenous Peoples Day on the summer solstice – June 21, 2018. It was a very special place to be on this particular day, in that Naujaat is located exactly on the Arctic Circle.
The Arctic Circle is the southernmost point at which the center of the midnight sun is just visible on the June solstice. This means that it would be possible to see the exact moment when the sun both set and rose at the same time.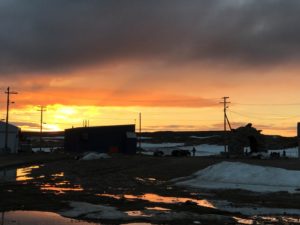 This photo, taken at 11:58pm, tries to capture that moment.
It is an amazing experience to live a day without darkness – to be in a land of a "Never setting sun." The community was alive with people and activities. We played baseball with the kids in the community, and completely forgot about the fact that it was 1:30am. Thankfully the hotel – Inns North has black out blinds in the windows otherwise it would have been impossible to get any sleep at all.
We joined the community and celebrated with a hot dog lunch in front of the Parks Canada building. This little girl was waiting her turn for the ketchup.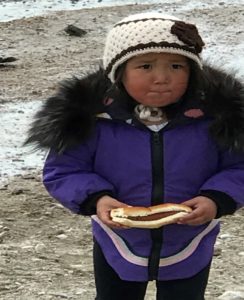 Little girl from Naujaat, waiting for the ketchup – what's a hot dog without ketchup?!
It is interesting to reflect on what it is like to live in a place where the sun never sets and conversely on the winter solstice (December 21) the sun never rises. I am fortunate that I was in Naujaat on December 12-14 and was able to experience this very strange sensation of knowing that the sun would not rise. My personal observation is that, notwithstanding the temperature, people were much more active and seemed to be filled with energy when the sun was out vs when the sun did not rise. I am not a scientist, so I have nothing to prove this statement – it is just an observation from watching and the people.
Read my other blogs on our experiences on the Floe Edge, on drum dancing with the Elders of the community and others on the Naujaat community. If you are interested in travelling to the Arctic, either individually or with one of my groups, please contact me.