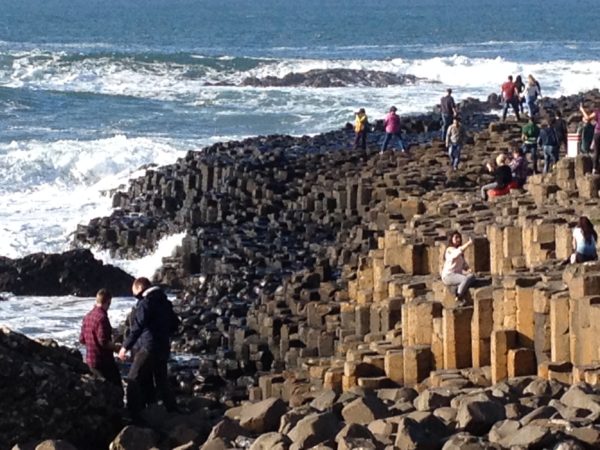 Over my many years of travelling, both for work and on vacation, there have been lots of Best Days Ever. But, this is definitely one of the best!
My two daughters and I recently took a trip to Ireland. We started out in Dublin, and had a couple of days in that fun city, where's there's so much to see and do. Then, we picked up a rental car and off we went, road warriors! The self-drive trip itself was great, although I admit to being a bit too ambitious in my planning. Trying to fit in everything that all three of us wanted to see was just not possible. We did manage to see a lot of awesome places, though (and even some we didn't intend to, thanks Google maps!) But, I always say, when you're on holiday you never get lost, you just take scenic detours. And sometimes those detours work out great. Note to self, just because a road in Ireland looks straight on the map (there are one or two, but that's probably it) does not mean it's flat (as our Prairie brains automatically equated it to be). There was one in particular that was a real roller coaster!
The day that stands out in my mind is the day we spent at the Giant's Causeway with my friend Mark Rodgers, a fabulous local guide and Causeway native. His stories and good humour made the ground speak to us and the stones sing, all the while with the wind whistling around us and waves crashing onto the rocky shore. Magic!
After the Giant's Causeway we drove along the Causeway Coastal Road and then headed inland through the Glens of Antrim to the Ballymena area. Our quest was to find a small farm nestled at the foot of Mt. Slemish, and find it we did!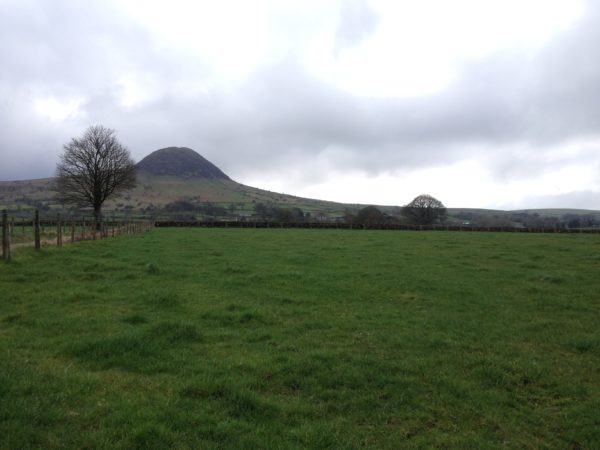 And that's where my heart and my soul really soared. Because, on this land, my Grandma Hannah Muirhead was born and raised, along with her many, many, many brothers and sisters, my great aunts and uncles, and their parents. To think that my Grandma's feet walked these pathways and her hands helped build the stone fences surrounding the fields, was a palpable link to my past.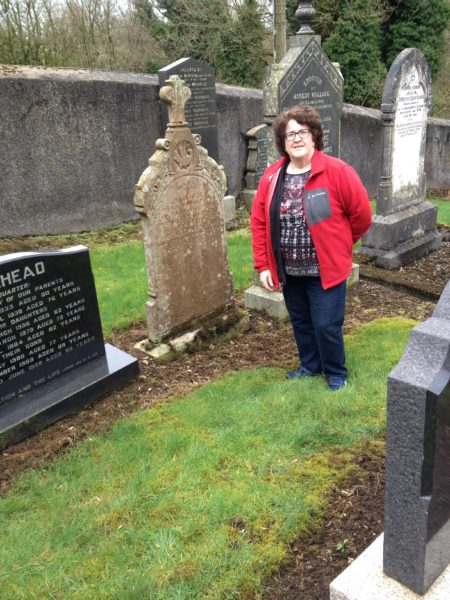 We met up with a cousin, Hilda, for dinner in the beautiful town of Broughshane, at a lovely, local pub called The Thatch. We visited the small cemetery in a wee village called Buckna, where my great-grandparents are buried. Seeing their names on the stones made me try to imagine what their lives were like, the ones that stayed behind in this beautiful land, but during difficult times, when so many of their children decided to emigrate to Canada. As a mother, I can't imagine hugging my children and saying good-bye to them, knowing it would be the very last time I'd see their faces and look into their eyes. They were strong-willed people, from hardy stock, and I'm sure realized that a chance of a better life was waiting for their children across the sea. But, it had to have been heartbreaking, all the same.
I know that these ancestral, emigration stories are shared by so many Canadians, with family links not only in Ireland, but in many places around the world. Other than our Indigenous Peoples we're all immigrants here. This is why, to me, ancestral and genealogical travel is so fascinating! Whether the plan is to just visit the country your ancestors came from in general, to go to a particular area or, like me, to search out an actual family farm, a village or a cemetery, it's just such a personal way to make our travel more meaningful. Doing this gave me the little piece of myself that was missing, the link to my past. After all, the past made our present!