My partner Chris had told me so much about Salar de Uyuni. The photos from his previous trips were stunning. I was so excited to see the salt flats that I didn't even mind waking up around 4:00am. The drive from our accommodations to Incahuasi Island took about an hour. In the dark, the salt seemed so much like snow on a gravel road that I felt like I could have still been on the prairies. That feeling was reinforced when the sun came up and everything I could see for miles was white and flat. It was like being on Lake Winnipeg in January, and I felt completely at home. Even some areas where the salt was shallow looked like when the lake starts to melt in the spring and there is a layer of water and slushy snow on top of the ice. The only indication that it was not snow was in one area where the water was bubbling up like a geyser, and around it the salt looked like sand.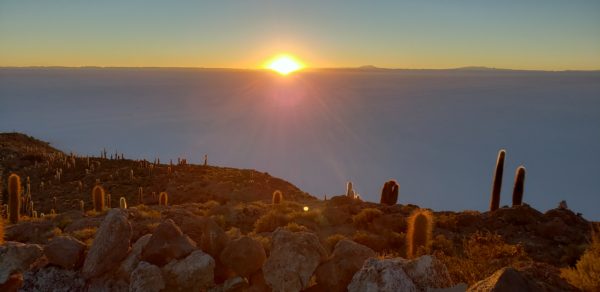 We arrived at Incahuasi Island around 5:30am, just in time to climb to the peak and watch the sunrise. It wasn't until much later that I realized that the spot from which we viewed the sunrise is actually an island. When we were there in the dry season, I thought it was simply a hill. It is only during the rainy season, when the salt flats become flooded, that it truly appears to be an island. Climbing the rocky trails in the dark was a bit challenging, but completely worth it for the reward of watching the sunrise on Incahuasi Island. On the prairies, we joke about being able to see your dog three days after he runs away, and daylight here is still visible long after the sun officially sets. That experience was nothing compared to the salt flats, because there aren't even any trees and few hills to block the light. Sunrise took close to an hour from the first hint of the sky lightening until the sun was finally completely above the horizon. The risk of frostbitten fingers didn't deter me from snapping numerous photos of the sunrise, although I didn't want to watch the entire thing through the camera lens of a mobile phone. For most of the time, I just sat in silence and enjoyed the spectacle with Chris.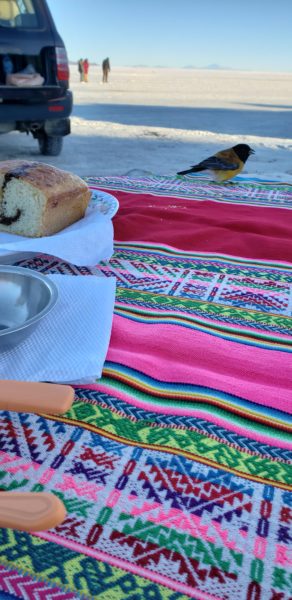 After taking more photos of the cacti and land surrounding Incahuasi island, we descended to our vehicle. Our driver and cook—Idel and his wife Eusebia—had  breakfast waiting, complete with a colourful woven tablecloth. What a welcome sight! We ate our breakfast of hot tea and scrumptious homemade bread accompanied by several birds who landed on our table. They just sat and pecked at the crumbs on the table, and surprisingly didn't try to steal any of the food. It was pretty magical.
After breakfast, our next stop was a wide, white expanse in the middle of the salt flats. Our driver Idel became our photographer—a professional one judging by the results. It gave me some idea of what models must feel like on a photo shoot. He set up all the shots and gave us many instructions. "Turn toward me. Walk forward. Three steps to the left. Smile." That last one was completely redundant because I was already smiling ear to ear. We viewed each photo as it was taken and had been laughing non-stop for the previous hour or so. My favourite photo is probably the one that looked like we were re-enacting a fight scene from The Matrix.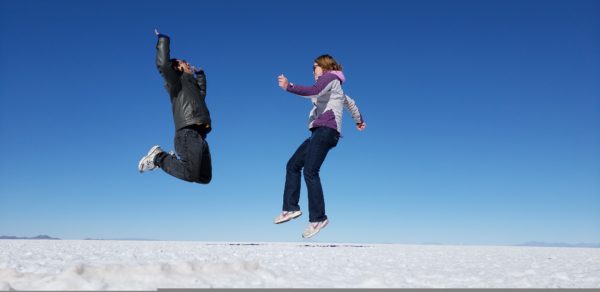 I had seen photos of Salar de Uyuni but I wasn't prepared for its magnitude when I saw it in person. I knew it would be an amazing sight to see but I wasn't expecting it to be fun as well. It was such a great combination of awe-inspiring scenery, a little bit of wildlife, and an amusing activity—all in a unique location like few others in the world. It is a day I will remember for my whole life, and definitely one of my best days ever!