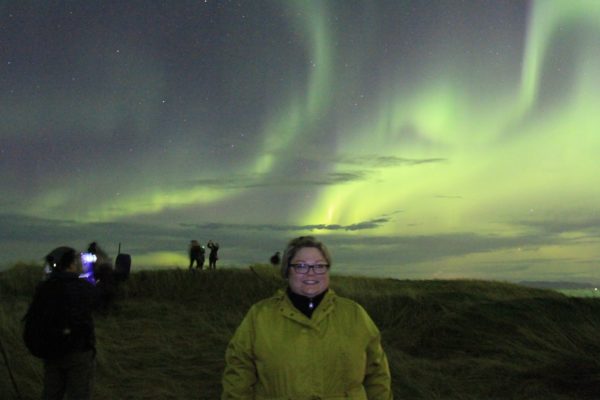 I was recently in Iceland, and since I was only there for a few nights, I hadn't planned on doing a northern lights tour.  However, when I arrived, I keep on hearing the buzz in Reykjavik that the lights were going to AMAZING that night, so I couldn't resist! I booked onto a Northern Lights Superjeep tour with Arctic Adventures and I don't regret it for a second!!
I have been lucky to see the northern lights before in Canada, Greenland and on previous trips to Iceland, however I have never seen them like this night!
On a northern lights tour in Iceland, your guide picks you up, and based on the forecast, they decide where the best viewing area will be – well away from the lights of the city!  On this night, we didn't have far to go – we only drove about 30 minutes outside of Reykjavik before we started seeing little wisps appear!
Our driver took our unique 4 x 4 Superjeep vehicle off-road a little bit and far away from any lights, so we could get the best viewing possible.
The Northern Lights, also known as the Aurora Borealis are collisions between electrically charged particles from the sun that enter the earth's atmosphere.  Many colors can appear, however green and pink are the most common.  Red, yellow, blue and violet are also possible.  The guides leading Northern Lights tour are very knowledgeable in astronomy and the atmosphere, and love to discuss this with people on their tours.  Making sure you don't only get to the see the lights if they are on display, but also getting to know what they are, how they are formed, and how the environment and solar activity needs to be JUST right.
Arctic Adventures also sends a photographer on the tours, that way, if you don't have the proper equipment (or can't figure out the right settings!), they can capture all kinds of amazing photos, that you are able to download when you are home!  They also take photos of each person/couple/group so you can have a unique souvenir of your northern lights viewing experience!
Seeing the Northern Lights is an incredible experience, and some people feel it is life changing. You may never look at the night sky the same way again after seeing this amazing light show that Mother Nature puts on!