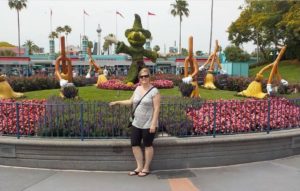 Disney World truly is the happiest place on Earth!
Their tagline says it's the happiest place on Earth, but you don't really understand what they mean until you visit it for yourself. I'm so in love with Disney World, I wish I could return year after year, as I would never get bored! There is always something new to experience.
Growing up I was lucky to be able to take a vacation every year, and usually that was Disney.  The first time I visited Disney World I was 7 years old.  From that moment, I knew it was going to be my favorite place to visit.
Everyone always says "Disney is just for kids".  Let me tell you…it's for everyone, which is why I chose it as my honeymoon destination!  My husband thought the same thing, it's only for kids, I won't like it etc. Now he also think's that it's truly the happiest place on Earth!
There are so many different things to experience: parades that make their way through the streets, characters waiting to meet & greet you, some of the best fireworks displays you will ever see & much more!
Disney knows how to do it right!  I've always been so impressed with how well Disney does things.  Staying on site at a Disney World Resort hotel, every minute of your vacation is made hassle-free and everything is so convenient.  Your Magic Band acts as your hotel room key, your theme park ticket, and allows you to charge souvenirs throughout the parks directly to your room and pay for meals with the Disney Dining Plan. Everything is made so easy.
Customer service is second to none!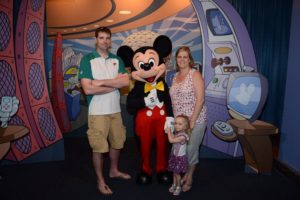 Visiting Disney World, you can allow yourself to be a kid again.  You get to be a part of something you had only previously imagined. To a parent, seeing the expressions on your children's faces is truly a great feeling.  That's why I knew when I had my own daughter, I couldn't wait to take her to DisneyWorld for the first time.  We took our daughter  when she was almost 4 years old.  The expressions on her face when she got to meet Mickey Mouse and Cinderella for the first time was truly a magical experience.
At Disney World there is so much to do and enjoy.  You could visit Disney a dozen times and still not have done and/or seen it all!
The experience was truly magical and to be able to share it with my family makes it one of my "Best Days Ever!"