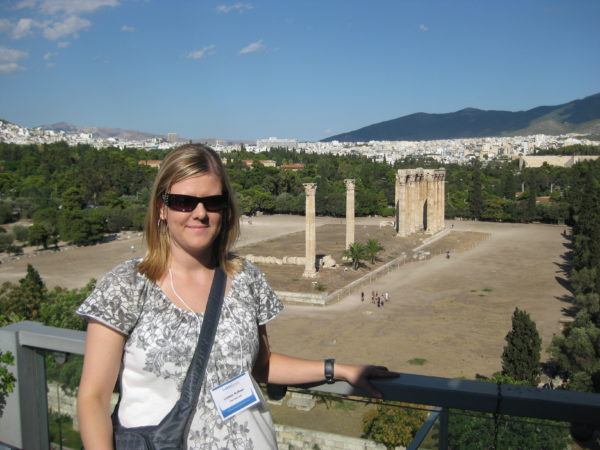 It was September 2010, my first time to Europe!  I was on my way to Greece!  It was a FAM Trip (familiarization trip exclusively for travel agents, hosted by suppliers/tour operators/tourist boards to visit & learn about a destination).  I was super excited, but also super nervous at the same time.  This would be my first trip to Europe (alone), and I would be on a plane direct from Toronto for 10 hours!  What would I do with my time??
Having never been to Europe, I was excited to see what it would be like.  I'd learned a lot about Europe, through colleagues, and specialized training courses, but it was finally time to experience it first hand.  What a beautiful country to visit, especially for my first time to Europe.
My itinerary would be taking me to Greece's capital, Athens, as well as the islands of Mykonos, Santorini, and Crete.
Upon arrival in Athens, it was morning, and we were told NOT to go to sleep.  Stay awake and try and get our bodies to adjust to the time change.  After checking in at our hotel, we were kept busy with some hotel inspections in the afternoon, and then a delicious dinner at our hotel in the evening.
The next few days we were able to explore the Acropolis and the Parthenon, as well as other attractions in Athens.  We stayed in a central location overlooking Syntagma Square and the Tomb of the Unknown Soldier, in front of the Old Royal Palace.  We were walking distance from Plaka, which is a wonderful area with cobblestone streets, lined with many shops selling various items such as clothes, jewelry, local souvenirs.  The streets are also lined with sidewalk cafes, and tavernas.
After spending a few days in Athens, we were transferred to the port of Piraeus to catch our ferry ride over to the beautiful island of Mykonos.  Rocky hills, combined with amazing beaches make up the landscape of this island.  The streets are lined with white houses with brightly coloured painted wooden doors and window frames and shutters and flower-filled balconies.  The area has many small churches and shops selling souvenirs and other goods.  The capital – Hora – is home to a harbour, where you will find fishing boats side by side with luxury yachts.  Mykonos is one of the most popular tourist destinations in the Greek Islands.  Well known for beaches, as well as a summer party atmosphere and great nightlife.  Perfect destination if you are looking for fun in the sun!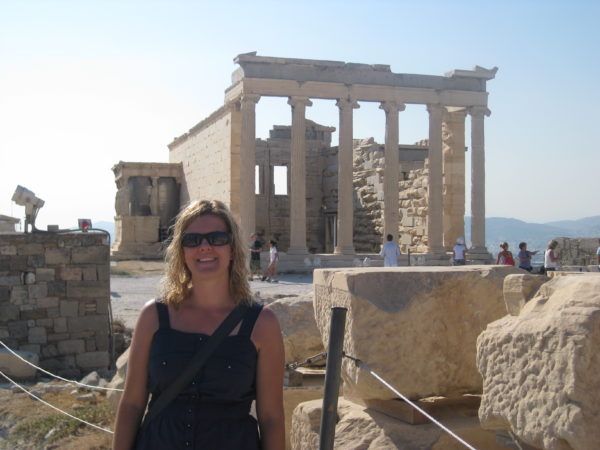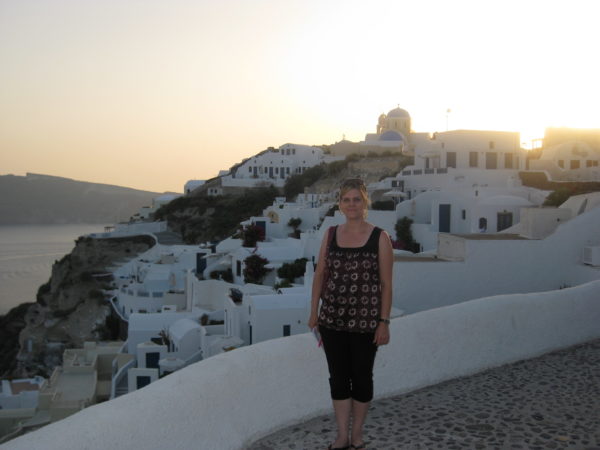 Next, it was another ferry ride over to our next island – Santorini!  If you are looking at a picture of the Greek islands and see the white buildings with blue roofs, glowing in front of the bright blue sea, you are probably looking at a picture of Santorini.  A perfect spot for first-time visitors, and definitely one of the most romantic places in Greece.  While in Santorini, we visited and toured the beautiful resorts, as well as the principal towns of Fira and Oia.
After an evening ferry ride, next up was the island of Crete, Greece's largest island, and one of the islands farthest from the mainland.  Crete's main cities and resort areas are found on the north side of the island and are home to hundreds of shops, cafes, tavernas and more.  Golden beaches trim the island and the warm sea is perfect for swimming and other water sports.  Unfortunately, due to our ferry arriving late, we didn't get to experience as much of Crete as I would have liked, as we were only there for one night, before headed back to Athens for our last couple nights in Greece.
When asked what my favorite area of Greece is, that's a hard question, as they are all nice, but also quite different.  I would definitely have to say that I really loved Santorini.  The pictures you see of the blue-domed, white buildings, with the beautiful blue skies overlooking the blue sea…that's exactly what it's like in person!  It certainly makes it easy to fall in love with this destination.
Visiting Greece was amazing and is definitely a destination I would love to visit again one day!