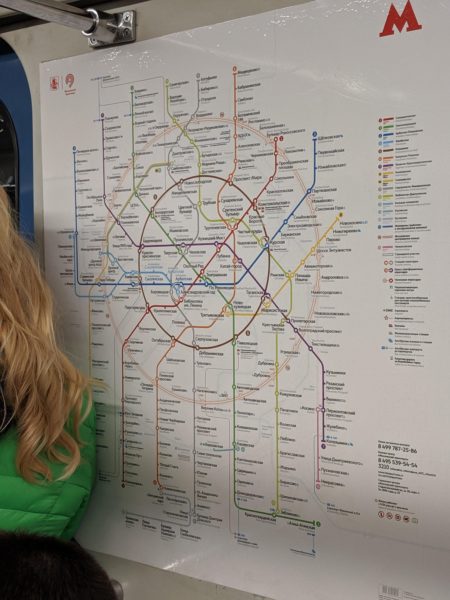 When I was researching interesting things to see in Moscow, the Moscow Metro System kept on popping up.  So I booked a metro tour before I left – and it certainly did NOT disappoint!!
Our guide led our small group (10 people) through the extremely busy, but equally beautiful metro system one afternoon.  Every station is truly a museum in itself, and they are kept immaculately clean.
It is the 5th longest underground railway system in the world with just under 400 km's of rail.  It goes very deep underground – sometimes at one station, you might have 2 more stations above you – all underground!  The deepest station is Park Pobedy station at 276 feet underground.
It would take hours to visit all of the stations, so our guide picked only 6 stations for us to visit, but the 3-hour tour had us zigzagging all over the city, changing lines, and seeing some incredible artwork!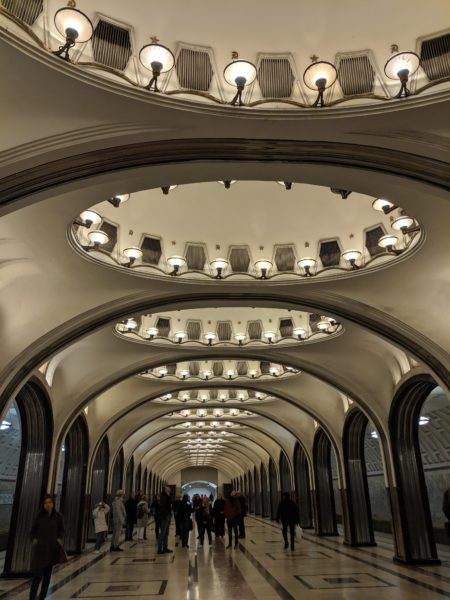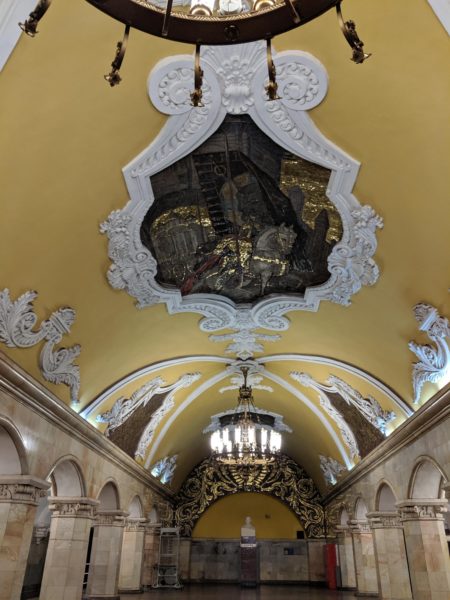 Around 7 million people ride the metro daily, as it is the quickest way to get around the city.  There are 15 different lines spanning the city, and they are all color coded. The brown line, number 5 (also known as the brown ring) is one of the busiest as it circles the main core of the city, including most tourist attractions, and a lot of the government buildings. The light and dark blue lines, along with red and grey all intersect near the Kremlin and St Basil's Cathedral forming a large main hub.
It is said that these stations are the most beautiful – we visited 5 of these, and I can attest that they are incredible, you truly feel that you could be in a museum, or a gallery somewhere – if not for the thousands of people bustling around you!
Mayakovskaya Station – looks like a ballroom!  Wide arches, huge domes with lamps and mosaics.
Komsomolskaya Station – one of the most photographed stations as it has a bright yellow ceiling with large chandeliers.
Novoslobodskaya Station – the most popular part of this station is the far wall when you get off the train, it has a large mosaic of a naked lady holding a baby in front of the Soviet hammer and sickle.
Prospekt Mira Station – this one has incredible chandeliers hanging throughout
Belorusskaya Station – large arches with octagonal shaped Socialistic Soviet mosaics
Kiyevskaya Station – classical style murals with soft lighting
Taganskaya Station – light blue and white decorations that pay tribute to various historic Russians
Paveletskaya Station – the best part of this station is the huge turquoise dome and a painting of the St Basil's Cathedral, near the exit.
The Moscow metro tour is something that should be on everyone's list who visits this city.  You don't have to be knowledgeable of art to enjoy the beauty of these stations.