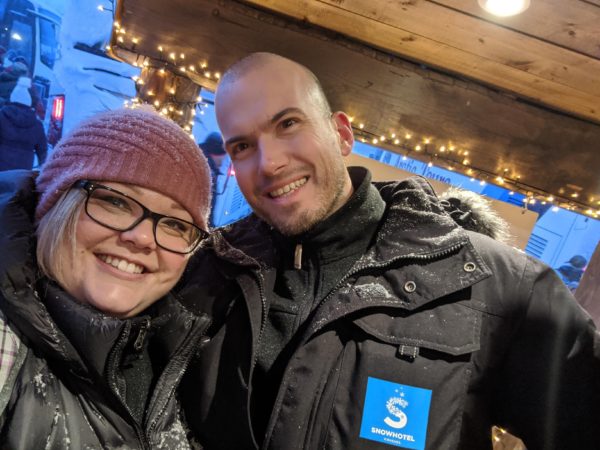 This past winter I had the opportunity to stay at the Snowhotel in Kirkenes, Norway. I stayed on December 1st for one night. The actual Snowhotel wasn't quite finished construction yet, so we stayed in the equally unique Gamme Cabins, and they were fabulous!
We flew about 2.5 hours northeast from Oslo and landed in what seemed to be the middle of nowhere at Kirkenes Airport. We had a arranged for the Snowhotel to pick us up from the airport, and their transfer service was a very smooth operation.  We looked for a person wearing a Snowhotel jacket, and it turned out to be our wonderful host, Mili! Mili checked off our names and directed us to our waiting bus where the driver helped to load our bags. Once we were all on board, we set off for the approx. 15 minute drive to the Snowhotel!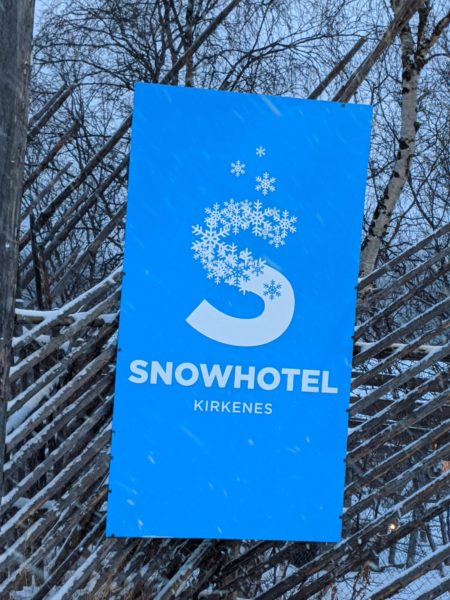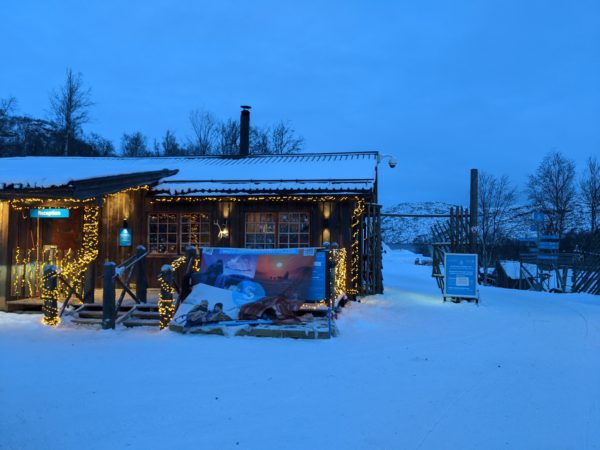 On arrival, we all got off the bus and were surrounded by pure nature on all sides. Snow, fjords, trees and very little else for as far as the eye could see. We immediately made our way to the meeting place known as Gabba for our dog-sledding de-brief! Once we were advised how things would work, we were suited up and went to meet our dog teams!
After meeting our dogs we were off for about a 45-minute ride that included a stop in the middle of the frozen fjord! We were taking this ride at about 1:00pm, and it was already almost completely dark.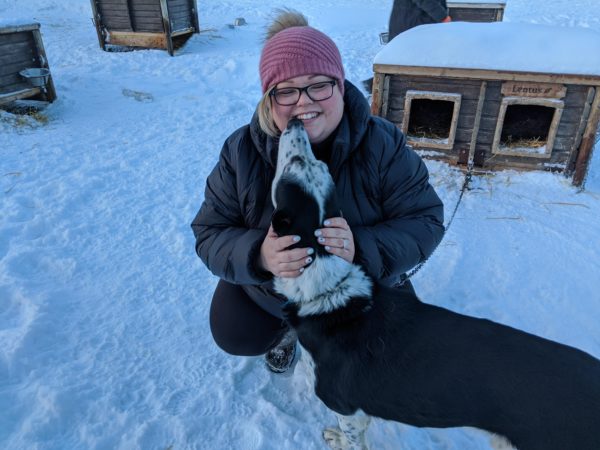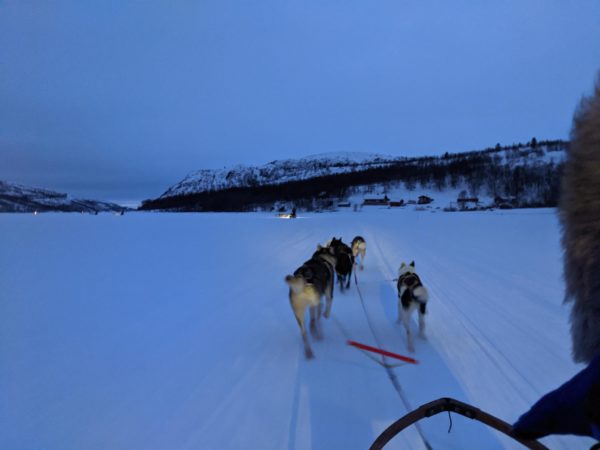 Once we were finished dog-sledding, we were able to get checked into our cabins. These little cabins are absolutely stunning, with light wood finishing and a large picture window overlooking the Snowhotel and the fjord. Each cabin has either 2 x single beds or a double bed, a large mudroom, a large bathroom, and a beautiful sitting area with two chairs set up facing the stunning view.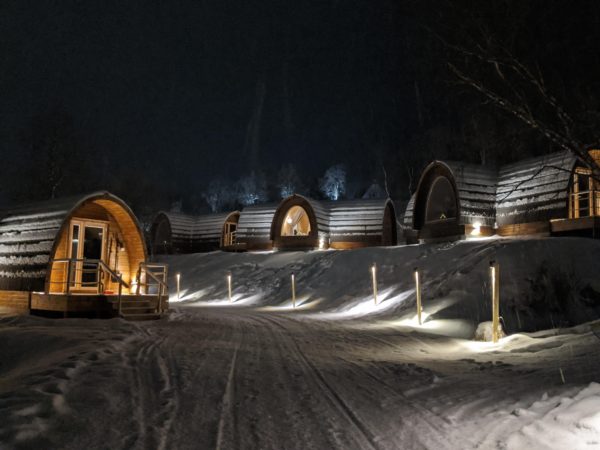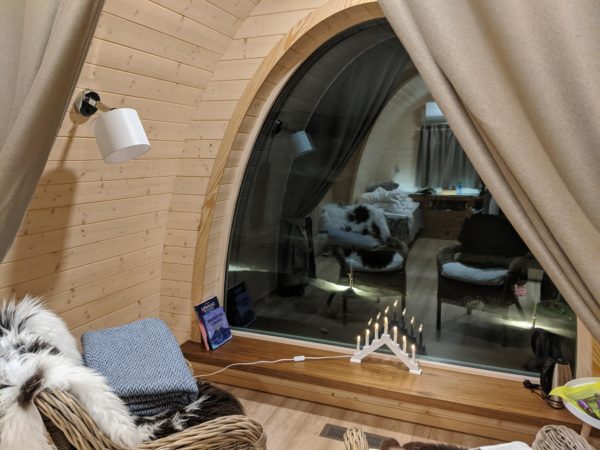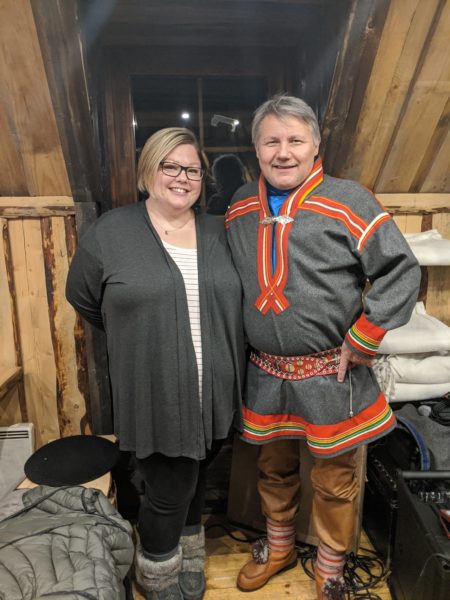 We had a little downtime to relax before heading back to Gabba for a presentation from a wonderful Sami man.
We learned about some Sami traditions including the Joik , which is a traditional form of song.  Each person, place or animal has their own joik, and he even created a joik that was special just for our group.
We then moved to the main restaurant for our dinner. The restaurant has large windows on both the upper (dinner) and lower (breakfast) levels that offer amazing views over the fjord. The evening was spent socializing and learning all about life in the far North of Norway.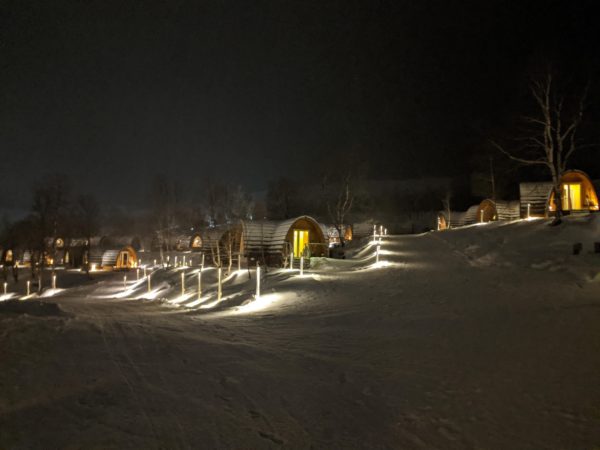 We were all on high alert for the Northern Lights, but a steady snow was falling most of the day and evening so we didn't see any lights, but you could still feel the magic of the area.
In the morning, after a very filling breakfast was served, we had about an hour and a half of leisure time to relax before boarding the bus on our next adventure. I chose to visit the resident reindeer and play with the dogs! As long there is a staff member in the area, you are encouraged to visit the dogs – they love visitors and attention!