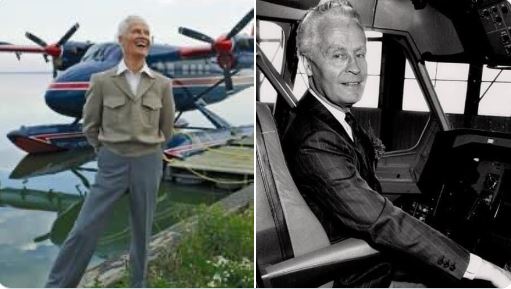 When I read the news reports yesterday saying that Max Ward, the founder of Wardair had died at age 98, I felt very sad and nostalgic. It feels like the end of an era in Canadian aviation, the passing of an honourable gentlemen of aviation and royalty in the Canadian travel industry.
"A northern bush pilot who built a regional carrier into Canada's largest charter airline has died.
   Max Ward collapsed Monday at his Edmonton home and died in hospital shortly after surrounded by family. He was 20 days shy of his 99th birthday.
'He'd been in failing health for some time," said family friend Jacquie Perrin, who confirmed Ward's death. He did his best to hang in for the 99th, but he didn't quite make it.'
   It was a rare example of Ward not reaching his goals."
-The Canadian Press, November 04, 2020
Back in the late 70s and 80s, when I was in the early years of my career in travel, Wardair was the preferred airline for Canadians going on holiday to Mexico, the Caribbean and especially to Hawaii. Later they'd become first choice to the UK as well. Their planes were nicely decorated, well maintained and perfectly groomed; their staff obviously loved the company they worked for; onboard service was top notch, with delicious meals served on china and the champagne flowed like water.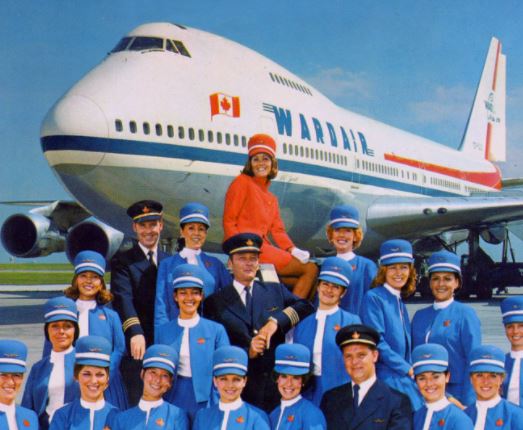 My most memorable flight on Wardair was to Honolulu, Hawaii. After a very enjoyable flight, as we tipsy-toddled our way off the plane, every passenger was greeted with a traditional lei made of fragrant flowers and greenery. What a way to make your passengers feel special and valued, right? But, that was Wardair – they paid attention to the things that made people feel like they really mattered, not just in a business sense but on a personal level. And Max Ward was behind every decision and every detail, a very "hands on" approach to running his company.
In that period in the travel industry (no, I'm not going to say "the good old days", or my daughters will call me a dinosaur again, and that will hurt my feelings) there were two big travel conferences every year in each major city across Canada. One in the winter to promote travel for the following summer, mostly to Europe, and one in the late summer/early fall to promote travel for the coming, cold winter, mostly trips to hot spots. We all looked forward to these events with anticipation because it's when all the new brochures were handed out. We'd leave the trade shown laden with at least 50 lbs of paper!
One year I was on the committee organizing the event here in Winnipeg and my main responsibility was to book a keynote speaker for the dinner and to host them when they were here. Well, after a lot of finagling (and the laying on of some Irish charm) I landed Max Ward! We were all so excited that he agreed to fit our event in to his schedule. I felt incredibly honored to meet him and share great conversation over drinks and dinner. What an interesting person he was. His keynote speech was amazing, funny, filled with yarns from his bush pilot days, totally entertaining and very inspiring – a smashing success!
So, now that this aviation pioneer is no longer with us, let's take a look at "who was Max Ward"?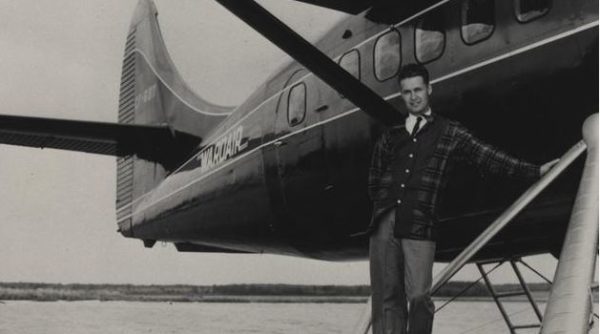 Maxwell William Ward was born in Edmonton, Alberta, on the 22 November, 1921. "Max" as he was known, earned his pilot's license in 1941 and trained fellow pilots during WWII in the British Commonwealth Air Training Plan. After the war he moved north to Yellowknife, and flew the Arctic skies in a little de Havilland Fox Moth, carrying both passengers and freight. He is one of the bush pilots credited with helping open commerce in the north, especially the mining industry.
In 1953 he founded Wardair and flew people and cargo over the Arctic tundra in a de Havilland Otter, landing on floats in summer and skis in the winter. One of his planes, the first Bristol Freighter used in the Arctic, is on display at Old Airport Road, Yellowknife, in recognition of his years of service to the northern community and area.
By 1962 Wardair had relocated to Edmonton, operated six aircraft, including a DC-6A which could offer international charter services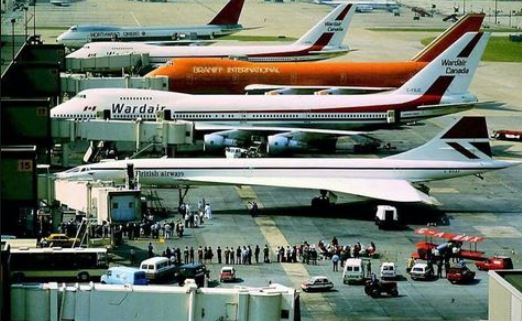 Rapid growth followed in the 70s because of holiday flights to Mexico and the Caribbean. By 1984 Wardair boasted four Boeing 747s and three DC-10s. A far cry from his lowly, little de Havilland Fox Moth! Max threw himself into the scheduled airline business, competing with Canada's established airlines, Air Canada and Canadian Pacific Air Lines. In 1984 Wardair won the right to fly domestic and international scheduled flights, expanded their route map to include the UK and Europe and added 12 Airbus 310s to the fleet. Max was wading into the muddy waters, filled with red tape and government regulations protecting the two larger airlines.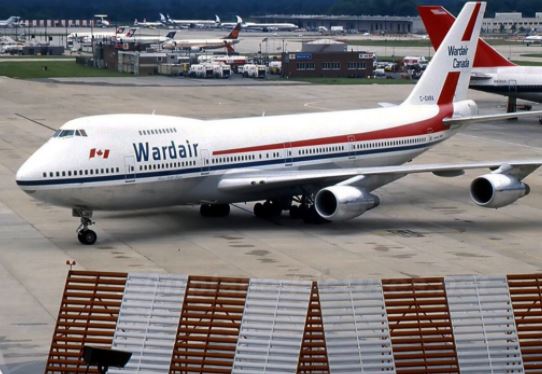 Wardair was a definite fan favourite with consumers! But, Max's growing prominence in the marketplace soon had Wardair embroiled in fare wars with the two major airlines. Eventually, their deeper pockets and protected status combined to force Wardair out of business. In 1989, now the third largest airline in Canada, Max sold his beloved company to Canadian Airlines and retired from the aviation industry two years later.
Max Ward received many awards and honours in his lifetime including Canada's Aviation Hall of Fame (1974); Officer of the Order of Canada (1975); Alberta Order of Excellence (1989); Canadian Business Hall of Fame (1993) and Canadian Travel Hall of Fame (2018). He also held several honorary degrees from universities across Canada.
To learn more about the aviation pioneer, Max Ward, I would recommend reading his autobiography, The Max Ward Story: a Bush Pilot in the Bureaucratic Jungle, published in 1991. It's an interesting read about an interesting man (and there might even be some bush-pilot, tall tales in there).
Fly high, Max, and smooth skies!