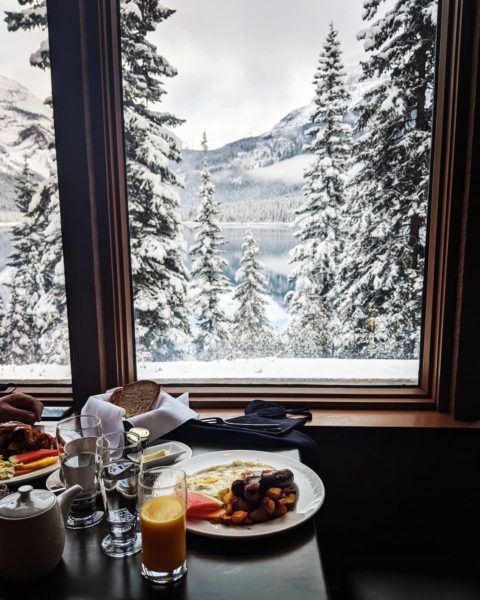 I am sure we are all feeling the same thing these days … I just want to travel!  Due to the continuing COVID-19 pandemic, there is really very little travel happening outside of our own country.
My husband and I were getting a little antsy for an adventure, so we packed up our SUV and drove west across the Canadian Prairies.  Of course, packing these days means we pack a few additional items – hand sanitizer and face masks.
We arrived at our first destination – Emerald Lake Lodge, in beautiful Field, British Columbia.  On arrival, we were directed to a parking lot, were we parked our SUV and were shuttled to the main lodge.  The first indication of COVID-19 measures was the sign on the shuttle advising that all passengers must wear face masks on the shuttle – no problem as we are slowly getting used to masks as part of everyday life.  There was ample social distancing in the main lodge, lots of space between tables at dinner, and all staff wearing masks at all times (except front desk staff who were behind a full plexiglass screen).
Daily housekeeping is no longer offered, but if you need anything, you are able to request housekeeping to come into your room and take care of it, however, you must leave the room at the time, no matter how small the request.
The hot tub was open (maximum 10 people, normally 25 people) during our stay, and we were there during the first snowstorm of the season – great hot tub weather!!  We lucked out and had the area to ourselves.  The clubhouse (where you can find towels, use the exercise equipment and purchase drinks) was closed due to the Pandemic, so a quick phone call to housekeeping had some extra towels promptly delivered to our doorstep so we could enjoy a nice soak in the in hot tub amidst the falling snow!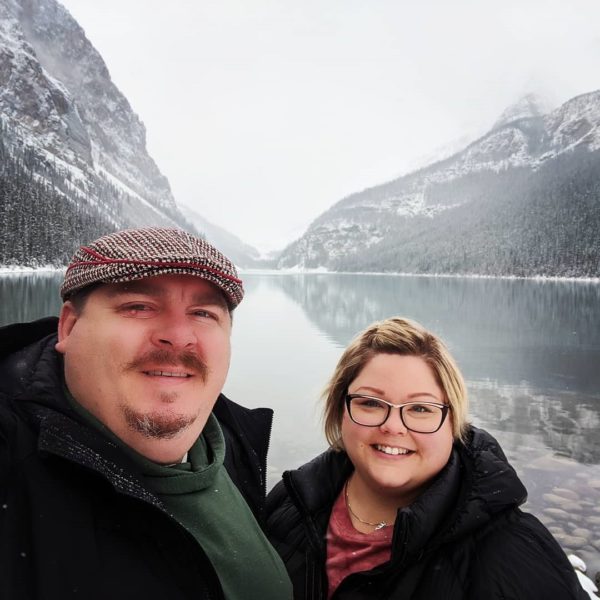 After our relaxing disconnect from the outside world (no cell service and limited WiFi at the lodge!), we rejoined civilization and en-route to our next destination – Banff, made a stop at the iconic Lake Louise   We travelled during shoulder season meaning, during a typical year, there would still be hundreds, maybe thousands of people visiting the lake a day, along with dozens of tour busses.  This year – we pulled into the parking lot and there were approximately 30 cars.  When we arrived at the lake front, we were among less than 10 people enjoying the view!  We lived in the Rockies for years and can confidently say – this never happens – even in the off season!  At the time of our visit, masks were not required in outdoor areas, so we were able to take a quick mask free photo – in front of the snowy lake!
From Lake Louise, we continued to Banff!  We were booked for 3 nights in a condo at Hidden Ridge Resort.  We specifically selected a condo property so we could purchase groceries, and not have to worry about eating every meal in a restaurant – partially to save money, and partially to avoid as much contact with people as we could.
On arrival at Hidden Ridge, we were again advised that no housekeeping would be offered, but if we needed anything, it could be provided, as long we left the room.  The hot tub here was also open – maximum 15 people (normally 30), and towels were able to be picked up from the front desk on your way to the pool/hot tub area.  Masks were mandatory to access this area, as you need to travel through the main lobby, but masks were not required while bathing.
We enjoyed a lovely visit the Banff Gondola while in town.  Our tickets clearly stated that masks would be required for the entire duration of the visit, including in the actual gondola on the way up the mountain.  You would not be required to share a gondola with anyone outside of your social or household bubble.  We had a stunning day to visit, the air was crisp and cold, with a fresh layer of snow, and a bright blue sky!  For a moment, you could almost forget what was happening in the world.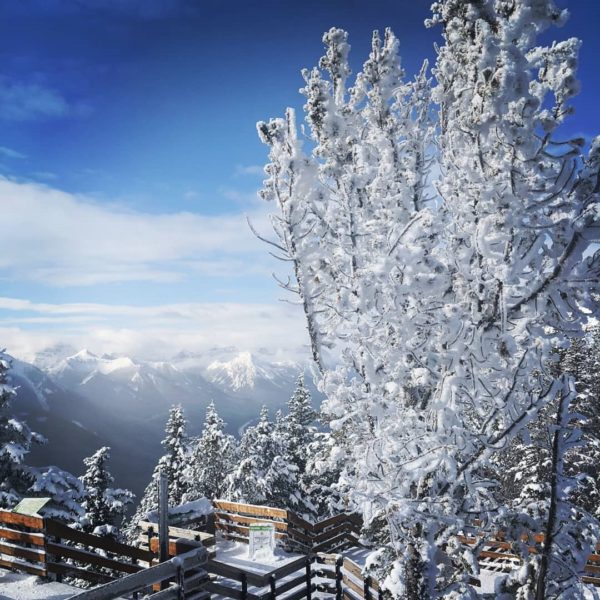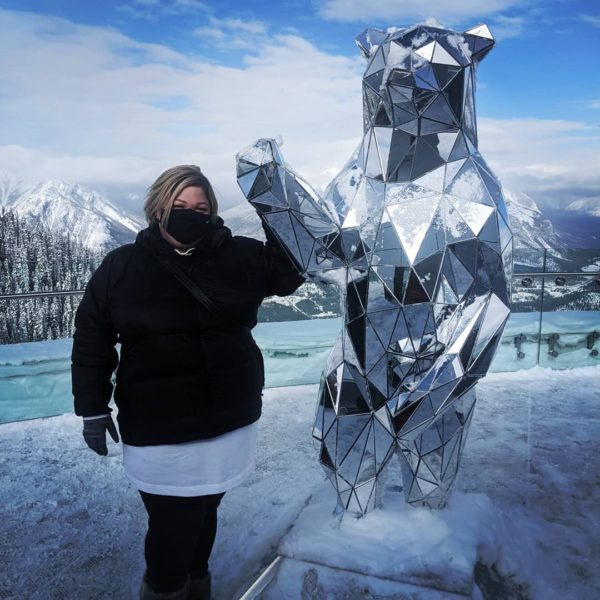 All in all, travelling during a Pandemic is possible, and could provide a much quieter and unique experience than travelling during pre-COVID days.  That said, there are still precautions that should be followed:
If you are sick, or feeling ill, or have come in contact with a positive case of COVID-19, please stay home. Once you are feeling better, you will still be able to have a great trip
Always travel with a supply of facemasks as more and more businesses, regions and provinces are requiring these for access
Always travel with hand sanitizer. This is widely available in many locations you will visit, but it is always a good idea to have your own – just in case.  Also be aware that some locations may require you to use their provided sanitizer, and this will be made clear to you
Be sure to find out and understand the local requirements for where you are visiting in regard to gathering sizes, providing information for contract tracing, etc,, as it may differ from where you are from
Follow the directions and guidelines from the hotel, attraction, business that you are visiting
Ensure to follow social distancing measures where possible