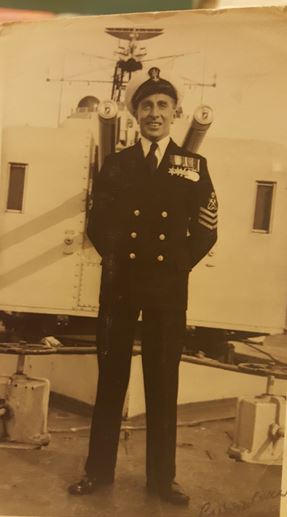 Edward William Cook (my husband Martyn's Great Grandad) – 
Edward William Cook and was born in Dover. Kent, England on the 29/07/1911 and lived in the north of England from his teenage years.  He joined the Royal Navy at Chatham Kent on 14/ 9/1939 as a Sickbay attendant. He wore a peaked cap, black tie, jacket and trousers, not blue square collar and bell bottom trousers.  He spent 1940 & 41 at Newton Abbot Hospital in Devon where they took in lots of injured people from the military in the west of England and the eastern north Atlantic.
His first ship at sea was HMS Quilliam, a destroyer, in Autumn 1942. There were 8 of these "Q" ships built in the north of England and with 3 other Qs they formed a squadron with HMS Quilliam as senior ship.  They left England in November 42 and did not return until the end of 1944. By this time he was a Leading sickbay Attendant as he was on his own looking after the needs of the crew.  That means he wore an Anchor badge on the left arm of his uniform. They travelled as a squadron to the following places and scenes of battles: all around the British Isles; Norway; Iceland; North Atlantic; Gibraltar; north Africa; Malta when the siege was on; Corsica; Sardinia; Italy; Crete; Egypt; Sierra Leone; South Africa; Madagascar; Aden; and Ceylon (Sri Lanka).
When they reached Burma he was transferred to HMS Caradoc, a cruiser, before coming home late 1944 on HMS Renown, a heavy battle cruiser at speed via the Suez Canal and Mediterranean. By this time he was promoted to Petty Officer with 2 crossed anchors on his left arm.
The war in Europe ended May 8,1945 and in the far east ended August 1945 after the US dropped nuclear bombs on Nagasaki and Hiroshima, Japan. He could have left the navy then, but had no job to go back to, so continued to serve until August 1961. During these years he served with the following: Southport naval hospital; off to the far east again in 1946 on HMS Formidable, an aircraft carrier, which acted as a ferry to Singapore naval base; at HMS Terror in the hospital and was also a DJ on the naval radio station for 2 years before urgent repatriation home as his wife was very seriously ill in Manchester Hospital.
After that he was at sea on the survey ship HMS Franklin updating all the sea charts around the British isles.  He then trained for a possible future war with nuclear warheads in the arsenal and taught it at training school in Chatham at HMS Pembroke.  Next stop was Chatham Dockyard to HMS Hartland,  looking after the reserve ships.
His last sea going ship was HMS Defender, a post-war Destroyer.They did lots of "showing the flag" trips around Europe and the Mediterranean. By this time he had been promoted to Chief Petty Officer Sickbay.
He served from 14/9/39 to 31/8/61 and his service number was CM 667927.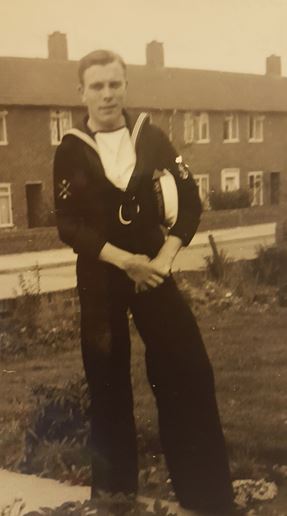 Geoffrey Edward Cook (my husband Martyn's Grandad) –
My time in the Royal Navy started at HMS Collingwood at Fareham near Portsmouth 14/9/53 as a New Entry Electrician and my number was PM 927934 Just a bit of coincidence on the dates and numbers.  After 6 weeks of parade ground bashing I was selected to become a Junior Radio Electrician`s Mate and went through the Radio School for a year, wearing the standard naval uniform of a sailor with blue square collar and Bell bottoms.
My next move as a 17-year-old junior sailor was to Chatham and a Battle class Destroyer, HMS Aisne. Along with three other identical ships we formed the 4th Destroyer squadron. My Dad, Edward William Cook (see profile above) was serving on one of those other ships, the Defender. From September 1954 until March1956, onboard the HMS Aisne we did lots of trips in the North Atlantic and Mediterranean; we visited Norway and the inner fjords; various UK ports and docks; Gibraltar; Ceuta in North Africa; then on to Malta, which was our base port. After that we visited Beirut in Lebanon where, in a sailing accident, we lost four crew members in a storm, and nothing was found. We also had visits to Naples; Rome`s seaport Civitavecchia and toured Rome; visited Tripoli in Libya and Egypt's Port Said; followed by Cyprus. We were the first British war ship to visit Spain since the mid-1930s.
After HMS Aisne it was back to school at Collingwood to learn all about radar for a year, before joining the refit crew of HMS Jutland. I became Leading Radio Electrician in Chatham Dockyard and did five days at sea with her after the refit.
My next ship was HMS Cook, a survey ship which made sea charts, which I joined in Port Moresby, New Guinea after three weeks of travelling.  On this ship I was promoted to Petty Officer Radio Electrician while sailing in Fijian waters. We also visited Solomon Islands; Tarawa, Kiribati; Australia; Auckland, New Zealand; Singapore; Hong Kong; Philippines and Rabaul, New Guinea.
Next, I had a big change in radio life. I was sent to Malta with my family of four for 2 ½ years to a radio transmitting station. We worked shifts all the time, sending signals to the fleet and other radio signal stations. This was 1961 to 1963.
Then it was a change to something without radios. It was sonar, with everything in the audio range and out of sight under the water with HMS Scarborough, an antisubmarine frigate.  On Scarborough we visited Norway and the fjords again; Gibraltar; Malta; Corsica; Sierra Leone; Ghana; Nigeria and Cape Verde Islands. I retired from the navy on 10/5/1965 with the rank of Chief Radio Electrician.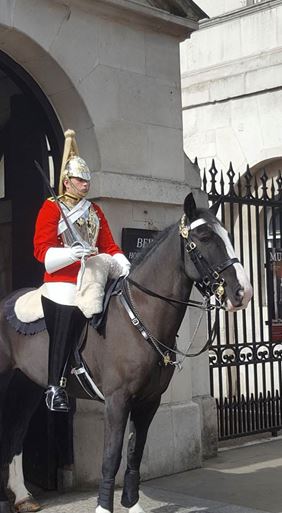 Lance Corporal Kyle Mathieson (my husband Martyn's cousin in England) –
He joined the services in 2014 and is in the Lifeguards division of the Household Cavalry based in Bulford, UK with the Armoured Halve of Regiment. He was involved in patrols and service during the London Westminster Attack in March 2017 and in training at CFB Suffield in Alberta, Canada in 2017 and 2018. Second photo taken during a training exercise in Oman. Third photo was the first day he 'got a box' while on patrol which is a huge deal.  Happened to be the day Martyn and I went to see him in action in London in September 2016.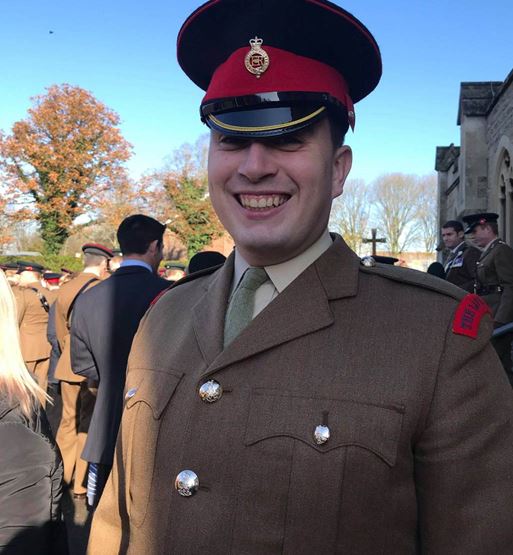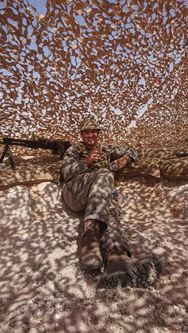 Private Ellwood Elgin Eastley, my Grandpa, who served in the Canadian Army and was stationed at CFB Borden, Ontario. In the photograph, he is directly below his dogtag.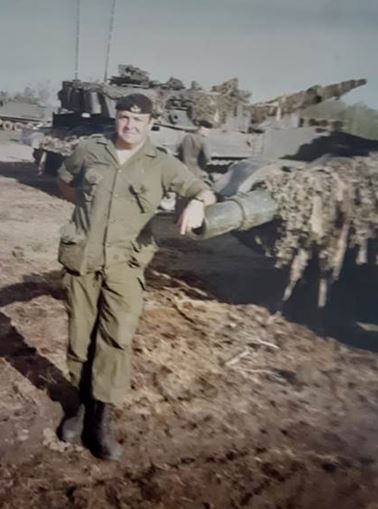 Warrant Officer William (Bill) Reginald Saunders (father of one of my best friends)
Warrant Officer William (Bill) Reginald Saunders, now since retired, served in the Royal Canadian Dragoons Armoured Corps for 32 years. He started his career in uniform as an air cadet in the small fishing village of Carbonear, Newfoundland. His many postings while in active duty took him, his wife Ann and his daughter Jo-Anne throughout the land force training bases in eastern Canada and to the Canadian base in Lahr, Germany. His overseas peacekeeping work included tours in Cyprus, Germany, and Bosnia. Bill was a competitive badminton player, and stayed active in athletics in the army and now enjoys his summers golfing in his retirement. Bill was often away in the earlier parts of his career for training and tours, but he was an involved partner and parent. Bill always made sure his family had the best of everything and his daughter had every opportunity. He was a familiar face at the arenas where his daughter skated, and drove through many snowstorms to get her to competitions. He is well liked and respected by all of those who worked with him over the years. His family and friends are very proud of his service and dedication to Canada.