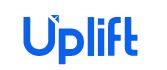 Have you ever seen a really awesome travel deal (and there are some enticing offers out there right now) or perhaps you've needed to travel for an emergency and wished that there was some way to pay for your trip over time? Well, now there is! Introducing Uplift, a new way to pay for your travel.
Uplift is the leading Buy Now, Pay Later solution for travel and we are partnering with them to provide our Canadian clients with Flexible Payment Options.
This program provides you with the freedom to book the adventure of your dreams with one of our travel specialists, whenever you are ready, and spread the cost of your vacation over low monthly payments. The flexible payment plan is available on all of Great Canadian's tailor-made programs to Africa, Arctic Canada, Iceland, Greenland, the Faroe Islands, Scandinavia, Scotland, Ireland and many other destinations, trip upgrades and options, travel insurance and any other travel product you wish to purchase.
Your Great Canadian Travel advisor will provide you with information about the Uplift Flexible Payment Options and send you a link to the online application for an instant, no-obligation estimate showing the amount being financed, the applicable interest rate (very competitive APR rates, much lower than credit cards) and the total amount due. Should you decide to complete the application and submit your financing request you'll receive an instant payment decision. Upon approval you'll pay the first of 12 payments at that time and then equal payments over the next 11 months.
When paying through Uplift, there are no late fees or pre-payment penalties and you will clearly see your fixed monthly payments at the time of booking. This makes it easy to budget, buy and experience the travel you want and deserve.
Our mission statement is "
Creating 
Your Best Days Ever"
and we see our partnership with Uplift a positive step in making these trips of a lifetime more accessible than ever before, allowing our clients to book now, pay later.
What you'll need to take advantage of the Uplift financing offer is a Canadian address, be 19 years of age or older and have a valid debit card.
Get in touch with us today
for full details and ask us how Uplift's Flexible Payment Options can help you take advantage of current special offers and book the trip of your dreams now.