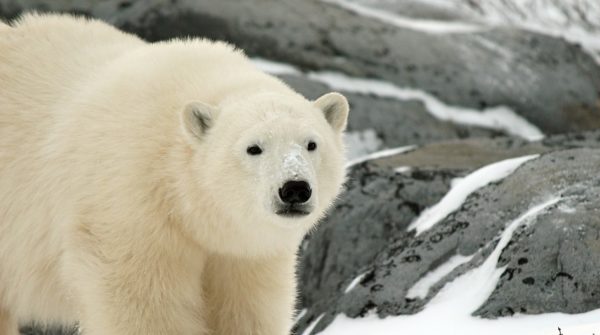 So you know you want visit a Polar Bear but you need to figure out the way to visit that works best for you? Well, there are actually several ways that you can have a polar bear experience and I will lay out them out here for you, defining the differences between each one.
Tundra Vehicles
Only in Churchill, Manitoba can you sit in modern, comfortable, heated vehicles with very large windows and a viewing platform out the back and drive across the tundra searching for bears. This method will allow you to get up close and personal! Literally the bears can come right up to the vehicle and lean against it and you are on the other side of the glass. This is heart pounding exhilaration.
Tundra Lodges
Also only in Churchill, Manitoba are there offerings of staying in a "train" of tundra vehicles that have been converted into "sleeping – dining – viewing" cars. The experience is fantastic as you are out in the tundra alone with only a few guests, some staff and the polar bears. Many have woken up literally face to face with a polar bear gazing in the window. It is also an incredible experience to go to bed with the stars (or northern lights if you are lucky) and to wake with a tundra sunrise.
Wilderness Lodges
An upscale version of the "tundra lodges" these remote lodges offer unparalleled 24 hour a day access to the polar bear community. The experience of having these magnificent animals walking so close you can hear them breathe is spectacular. They also offer the option to go on a polar bear walking safari so that a guide can get you as close as you want to be (within reason and caution) and truly have a wildlife encounter without barriers.
Expedition Cruises
Through the Canadian Arctic, Alaska, and Svalbard (Norway) there are great expedition trips aboard small cruise ships that get you within close proximity of the polar bear communities you want to experience. These experiences are done from aboard a zodiac which takes you off the ship and then looks for bears that may be on or close to the shore. This is a different encounter as you are viewing the bears from a marine perspective. Many times you may actually see them in the water. Given the size of the ship and the zodiacs, viewing of the bears is most commonly done by high powered binoculars or telephoto camera lenses.
Another option by water
In addition to viewing the bears by zodiac or from the comforts of an expedition ship, there are some polar bear communities such as in Kaktovik, Alaska that reside on the surrounding islands from the mainland. This remote, fly in destination is accessible out of Fairbanks and the bears are best viewed by boat, similar to the zodiac excursions when on an expedition cruise.
Still confused as to which way is best for you? Give one of our Polar Bear experts a call and let our team work with you on deciding which works with your dates of travel, travel style and budget.