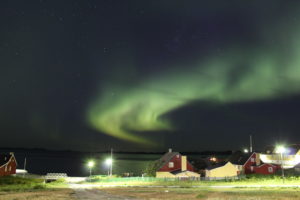 Northern Lights, or Aurora Borealis are a natural phenomenon that are generally seen in high latitude locations – Canada, Greenland, Iceland, Northern Europe, etc. They are generally spotted in the Northern Hemisphere between September and March. Depending on weather conditions, they can be seen as early as August and as late as April, however they may be faint, as you need true darkness in order to get the full effect.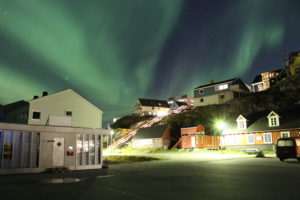 I was lucky enough on my recent trip to Greenland to see incredible northern lights above the capital city of Nuuk, this happened during the 3rd week of September during a particularly clear few days. Around 10pm, the little city started buzzing with excitement – the lights were out! As I was in Nuuk for a conference, I was with a group of about 15 people and we had just finished dinner. We hurried back to our hotel, geared up in warm layers, and went hunting for the lights with cameras in hand. We didn't need to go far! Even though there was a lot of light pollution since we were in the city, we could see them as soon as walked outside the hotel and looked up!
We quickly made our way on foot about 10 minutes to the harbour, here there would be the least amount of light pollution. The lights were amazing! Even locals that have lived in Nuuk for years were excited about this display as they were extremely bright and active. Having the lights that bright and active is not a common occurrence in Nuuk, and I was so lucky and honored to be able to see the show that night!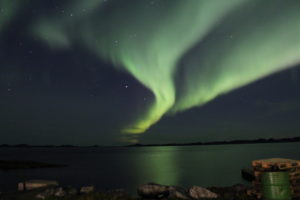 Taking good photos of the northern lights can be tricky, but you just need to have a tripod, and know how to use the features on your camera. Your ISO should be between 800 and 3200, your aperture between f/2.8 and f5.6 and your shutter speed between 15 and 30 seconds. A timer works well for northern lights shooting, this way you can move away from the camera completely and unless there is some wind, there will be no movement, ensuring you a clear shot. Luckily for us, one of the ladies I was with knew exactly how to take the best photos, and she took some amazing shots.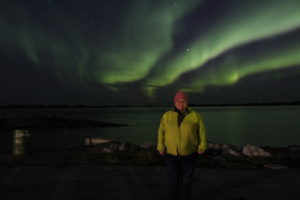 All photo credits: Daniela Sauerwein