Some believe that the Northern Lights represent one's ancestors looking down at them, keeping watch. Having seen them at Blachford Lake Lodge, I believe that now too. Nothing beats seeing these dancing ribbons of light in the sky.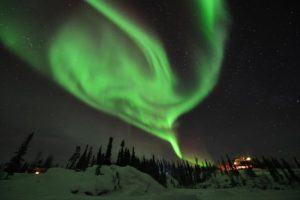 I had the great opportunity to spend a couple of days at the amazing Blachford Lake Lodge in February 2017. To get there, we took a ski plane from Yellowknife to a winter paradise surrounded by snow, lakes and endless snow covered trees. I was primarily there to see what happens at night – the Northern Lights (Aurora Borealis). About 15 of us were giddy with excitement and spent time in the lodge trying to figure out our camera settings so that we could capture the perfect picture. That is, of course, after a day of snowmobiling, snowshoeing through the woods, ice fishing and building igloos – my first!

Just after midnight, we headed outside all bundled up, expecting a show and the sky did not disappoint. Green and white lights danced and sang through the sky, making it seem like the sky was alive. On my left was an American woman who was in tears. On my right, a British woman also in tears. They both mentioned that the tears were because they felt that the Northern Lights were their fathers smiling down on them from Heaven.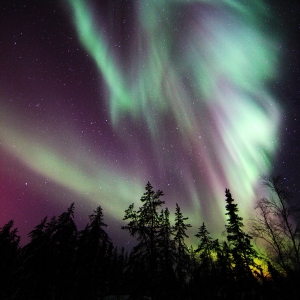 The next evening as I was watching the night dance from the hot tub, after another day of endless winter activities and excitement, I too was moved to tears. That day was the 10th anniversary of my own father's passing and so many memories of my Dad came to me; with the softness of the dancing lights the sky seemed to talk back. When you stand under the Northern Lights in complete silence, the sky crackles and speaks to you. I had just one thing to say – "Dad, I wish we could have one more dance."