Picture yourself relaxing in your very own seaside bungalow with the crystal clear waters of the Caribbean Sea just steps away from your bed. The ocean breeze will be blowing gently into your living space and the sun will be shining down on your own private hammock perched right above the water.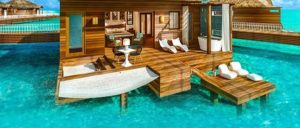 Jamaica's first over-the-water villas and bungalows are now open at Sandals Royal Caribbean. They are gorgeous, and at the moment, are the only over-the-water bungalows in the Caribbean.
Rodney Bay, in St. Lucia, has calm turquoise water is also a beautiful, idyllic setting for an over-the-water bungalow experience, so I am thrilled to see them opening up at other Sandals Resorts this year. Nine over-the-water bungalows at the Sandals Grand St. Lucian opened in May 2017.
These are so popular that Sandals are also building 12 over-the-water bungalows at the Sandals South Coast Resort in Jamaica, opening November 1, 2017.
Bora Bora still has the best over-the-water bungalows than anywhere else, but there are no adult only resorts or truly all-inclusive resorts there. Sandals Resorts has brought together, along with Sandals butler service, a beautiful package for those seeking a romantic couple's only vacation, luxurious honey moon or special anniversary.
For prices and specials, please call me or email me with questions about Sandals Resorts. We'll make your dream come true for you!