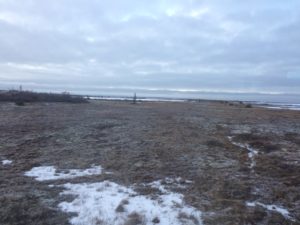 I see the tundra expanding before me! Like Eric Carle's famous book series, the north is full of amazing sights and sounds of nature, connected in some way. It truly is an opportunity of a lifetime to fly up to this part of Canada and see these creatures you may only read about or see in zoos.
From arctic foxes and snowshoe hares to snowy owls and ptarmigan, the fall transition to winter has everything confused as to what colour it should be. White to blend in with the snow that has already accumulated and brown/grey to act as camouflage against those areas that the snow hasn't touched. Camouflage is the name of the game up here right now and nature wins every time. The sun sometimes giving away the shadows to reveal a secret hideout. But the animals are smart and know where to go to be unseen again.
Churchill is a unique parcel of Manitoba that not many people get to experience, not even Manitobans. Out of the 40 people on this tour, there are two Manitobans. Two. As a born and raised Manitoban, this is my first trek up here in my 36 years. My inner child, and former park interpreter self, is screaming with excitement just to see a different part of the province I've called home my whole life. I love seeing animals in their natural habitat, no matter what size or species, it's always nice to see animals thriving.
Within the Churchill Wildlife Management Area, which also borders the coast of the Hudson Bay, is the boreal forest that spreads from the south-eastern part of the province all the way up to here, the marine coast of the Hudson Bay, and the subarctic tundra. All habitats are perfect for wildlife viewing. There are glacial erratics scattering the ground, embedded in the permafrost and then there is the nothingness of the taiga save for a few flag trees. A nothingness that brings about a sense of peace and calm; a quietness that I rarely get to experience. One could get lost within oneself here if given the chance.
The town of Churchill has a rule that no vehicle, or house, be locked in case a human requires a quick getaway from a curious 500 pound ball of white fur. As with most wildlife, they are usually just as scared of you as you are of it. But get between a mama and a cub or a hungry bear and its prey and you may be in a little bit of a pickle. Manitoba Conservation Officers routinely put delinquent polar bears into bear jail and then release them far from town before they get too habituated. For Halloween, there are no ghosts, or anything else that is white, and the children get about an hour and a half to trick or treat up the main road while volunteers park their vehicles to block the road with their high beams on to shine down the darkened street. This isn't because the children are afraid of the dark, but because the end of October is the high season for polar bears.
Polar bears aren't the only wildlife you will see in this amazing part of our country. Arctic foxes, wolves, snowshoe hares all make their homes on the Tundra. In the summer, beluga whales can be seen, and heard, playing in Hudson Bay. During this time, you can kayak, paddle-board and snorkel with the belugas, an experience I've heard is amazing. If being in the cold Hudson Bay waters doesn't speak to your inner adventurer, maybe gazing over fields of colourful wildflowers does. There are over 500 varieties as this is the transitional zone between the northern boreal forest and southern arctic tundra, the taiga.
In the winter, you will see Snow Buntings and Eider Ducks along with Ross's Gulls and Snowy Owls, among a variety of other birds hoping along the taiga in search of food before flying south. In the summer, there are many types of owls, grouse and woodpeckers alongside loons, geese and a variety of ducks. Again, there are too many to list here, so you may just want to go to see for yourself. For avid birders and amateurs alike, Churchill offers a wide array of impressive bird species that will allow you to check off many on your bird list.
At this latitude, the sky is also a focus as the Aurora Borealis dances its way across the starlit night. From greens and blues to purples and pinks, this solar phenomenon is a magical occurrence that is seen like this only in the areas that lack light pollution. To really see the spectacular movements of the lights, a darkened sky is best, free from any yellow city lights.
It truly is a unique place filled with fascinating characters and history. I hope that everyone has a chance to experience it at least once in their lives.