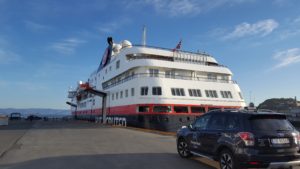 I had the opportunity to spend one night (one night is never enough!) on board the MS Spitsbergen, a Hurtigruten ship based on Tromso, Norway, and it was a fantastic experience!
We boarded in Trondheim, Norway, which is the 3rd largest city in Norway. The Hurtigruten port was a short 5 minute walk from our hotel, and when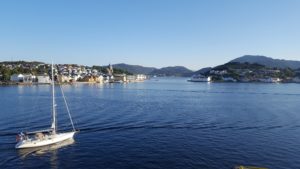 we arrived there were 2 ships in port. The MS Trollfjord which was headed North-bound, and the MS Spitsbergen which was headed south to Bergen. We boarded, stored our luggage (our cabin wasn't available until after the ship left port), picked up our cruise cards (like cash when you are on-board, everything is charged to this card) and quickly made our way to the top deck to watch as we were leaving port.
We lucked out with incredible weather, warm (for September in Norway!) at about 15 degrees and sunny, clear blue skies. We sat on deck with the other passengers and watched as Trondheim slowly faded away. The MS Spitsbergen holds a maximum of 335 people, though I don't believe our sailing was quite full.
Meal times were set as follows:
Breakfast: open seating, buffet style, served from 7:00am – 10:00am. Breakfast was very Northern European in offerings; fruit, breads, yogurts, cold fish, hard and soft-boiled eggs, cereal, cold cuts, cheeses and oatmeal. There were also some hot dishes; fried potatoes, bacon, sausages and scrambled eggs.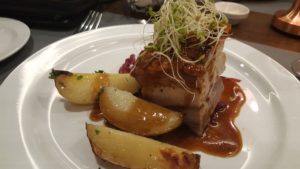 Lunch: open seating, buffet style, served from 12:00pm – 2:00pm (except on the day of arrival in Bergen when it is served 11:30am – 1:00pm). Lunch was delicious the 2 days that we were on board. There was always a meat soup (reindeer, broth and root veggies), cold fish options, fruit and veggies, breads, meats and cheeses and then there were hot options as well. Always a pasta dish and 2 hot veggie dishes, 1 meat and 1 fish option. There was also dessert offered at lunch and it was always a variation of what was offered the previous night for dessert (brownies or cheesecake with Norwegian Nyr), and lots of fruit.
Dinner: set tables and set dining times (either 6:30pm or 8:15pm), we were assigned the 8:15pm seating and our one dinner on board was incredible! We started with smoked Arctic Char and creamy dill potatoes. Our main course was traditional Norwegian pork ribs (traditionally served as Christmas dinner) with potatoes and cabbage. This pork was amazing!! Dessert was cheesecake made with nyr and local berries.
Coffee, tea, hot chocolate and tap water are included in your pricing (and orange and apple juice at breakfast only) and any other drinks are extra (and quite pricey – think CA$8 for a coke). A drinks package can be purchased for the 6 or 7 day trips, along with the 11 day round trip. Otherwise, your cruise card will be billed and you will pay on the final day of the trip.
The cabins are extremely comfortable, and most ships have at least 4 options for cabins: Polar Inside, Polar Outside, Arctic Superior and Suites. We stayed in an Arctic Superior cabin on the top passenger cabin deck. These rooms are very comfortable with a queen sized bed (there are a few that have twins, but not many) and quite a large bathroom (large for a ship!). Though you do come to realize that you spend little to no time in your cabins!
As Hurtigruten are working ferry ships, they do stop at several ports, sometimes they stop longer and there are shore excursions offered for passengers (best to book in advance), however a lot are strictly cargo stops and they stop for only 30 minutes. There are occasions as well that excursions are offered and you start at one port, the ships departs, and you rejoin at another port. The staff and crew on board and on shore really have this system worked out well. Everything runs extremely well, and times for port stops are adhered to very strictly. We are advised prior to boarding as well as on board that if you miss the ship, it will not wait for you and you must make your own way to the next port.
We spent most of our time on the top sun deck watching the incredible scenery go by. Norway is a visually stunning country, and it is sometimes very hard to leave the deck as you don't want to miss the scenery!
We ended our cruise at the final port in Bergen, which is the second largest city in Norway. On arrival in Bergen, our luggage was collected and taken off the ship for us, and we exited into the terminal to retrieve it from them the luggage belt. The process runs very smoothly, and I highly recommend this as a great way to see the Norwegian coast!