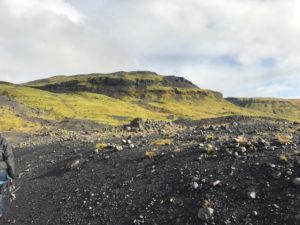 I had extremely high expectations of my first trip to Iceland in September as I have been training for the past seven months to become an Iceland Specialist. I am happy to report that Iceland more than exceeded my expectations! Immediately after leaving the airport I realized I was in a very special place. As my transfer left the airport, I noticed the immense lava field we were driving through. Rough, jagged black lava rocks covered the ground all around me. I honestly felt like I was on a different planet. It had been raining, so many of the black lava rocks were covered in lime green moss, it felt very mythical. I half expected to see a troll peek around one of the rocks and wave at me.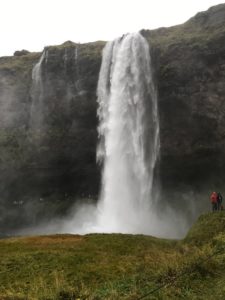 My first day tour was the Volcanoes and Waterfalls and Glacier Hike tour with Arctic Adventures. I was promptly picked up at the closest bus stop to my hotel and headed out of Reykjavik on a foggy misty morning. I was the last pick up so I chose the last remaining window seat on the mini bus. The view out my window was pretty much non-existant due to the dense fog that hung in the air. Our first stop was at the spectacular Seljalandsfoss waterfall one of the most popular sights in Iceland. Equipped in my full rain suit, I made my way up to the 65 metre waterfall and began my hike behind the waterfall. You quickly realize you are not in Canada anymore as the path behind the waterfall is uneven and covered in slippery wet rocks. There is no protective barrier between you and the waterfall, just the sheer excitement of feeling the spray of this powerful, thundering waterfall hit your face! It was an amazing experience!
Next stop was at the Skógafoss waterfall. Another breathtaking waterfall standing at 60 metres tall. Skogafoss is unique because the waterfall comes directly from two glaciers, Eyjafjallajokull and Myrdalsjokull. Legend tells us that there is gold buried at the bottom of the waterfall. Maybe next time I will try and find it.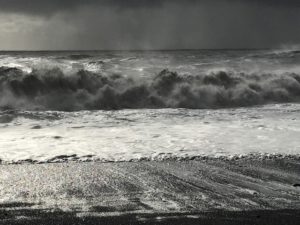 From here we made our way to the famous Black sand beaches of Reynisfjara. Our guide warned us how dangerous the sneaker waves are and how we should not ever turn our backs to the waves. The Black sand beach was the most unique beach I have ever seen. The waves crashing on the beach were all-powerful. They can be deadly but it was very cool to watch and experience these mighty waves. There were also enormous basalt columns that looked like a giant staircase to the sky. In the ocean were large rock formations that legend says are trolls that got stuck in the daylight and turned into stone. It was an amazing place to visit and I wished I had more time to spend here to explore the cliffs, caves and discover what was around the next corner. A beautiful and powerful adventure.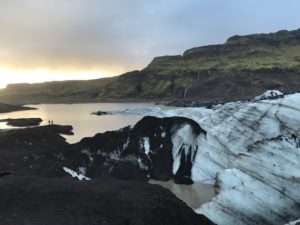 At last we reached the Sólheimajökull glacier for our hike. I thought we were going for a little easy hike on the glacier but I was very surprised to learn that I needed to be fit with a hard hat, crampons for my boots, harness and given a pick axe to carry with me. We had to walk quite a distance to reach the glacier as it is melting rapidly every day. This glacier is part of the ice cap that covers the mighty Katla volcano that is due to erupt at anytime now. Our guide was also a geologist and was very knowledgeable about the glacier and the rocks surrounding us. We had a quick lesson on how to put on our crampons and various glacier hiking techniques. Basically we learned how to stomp with each step like a dinosaur. Our guide made sure we were safe at all times but we still also felt the thrill and danger of watching rocks fall and hearing ice crack all around us. We drank water directly out of a small waterfall coming out of the glacier which was so pure and delicious. There is no hiking experience required for this tour but it will give almost anyone a real sense of accomplishment after completing this hike. I was awestruck by the enormity and beauty of the glacier and was so glad I decided to do the hike.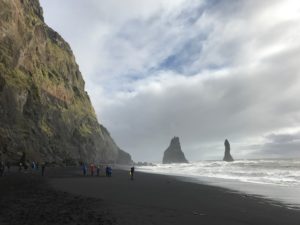 Now it was time to make our way back to Reykjavik. By now the fog had lifted and the sun shone brilliantly over the countryside. We took the same road back to the city that we used in the morning as there really is only one road that travels around Iceland. The foggy misty view I had in the morning was completely gone, replaced by the most amazing scenery I have ever seen. Stunning mountains, green farm land dotted with sheep and Icelandic horses. We even saw the volcanoes of the Westman Islands jutting out of the ocean in the distance. It truly was a magical day full of stunning memories I will never forget.
If you would like to check out some of our other day trips we offer from Reykjavik, click here.