How should you spend less than 48hrs in Kelowna you may ask? By visiting as many wineries as you possibly can while also enjoying fine dinning and keeping active on a cross-city bike tour, of course!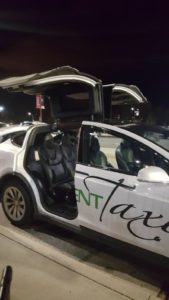 Kelowna is the Okanagan First Nations world for "grizzly bear"; inspired by the story of a fur-clad early settler who crawled out from an underground shelter back in 1862. I can assure you, this city is so proud of its heritage. I began my tour, hosted by Tourism Kelowna, with an airport pick up in a new Tesla! Kelowna actually has a fleet of 20 of these and the trend is booming with more on the way, and it is the same price as a taxi!
My inner clock woke me up at 3am, therefore I decided to venture out just before the sun came up to greet me and walked along side the Okanagan lake. I truly lucked out with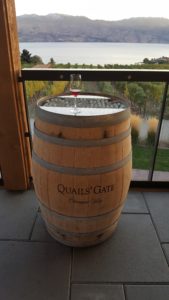 the weather and some amazing fall colours. The Delta Grand Okanagan hotel, where I stayed, is right in the heart of downtown and steps away from the lake, a beach, a marsh, some great mountain hiking and vibrant streets. It is an ideal location for corporate and leisure alike!
I spent the remainder of my day dinning on amazing farm to table cuisine, enjoying a guided bike tour in some of the most prestigious city streets filled with fallen maples leaves and impressive homes and parks before my afternoon wine tastings at both Mission Hill and Quails Gate.
Mission Hills; wow are those hills! Truly most spectacular grounds and timeless architecture and perfect for group functions. Imagine being underground in the barrel cellar for your private tasting at the altar. The smell of the wine barrels fill the cool crisp air while the volcanic walls remind you of the Cistern in Turkey. Anthony's private collection and goblets dating back to the age of God knows when are slightly tucked away but your eyes will surely not miss this most impressive site! My pick – Reserve Cabernet Sauvignon.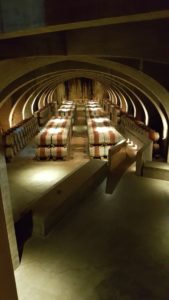 Quails Gate; in perfect time for a truly magnificent sun set and fine dining in the Old Vines Restaurant serving Pacific Northwest fresh and local fare with local in house signing, outside fire pits and remarkable lakefront views. My pick – the 2015 Pinot Noir. I bought two bottles.
On the next day, my last day, I had the pleasure of having an amazing breakfast at the Hotel Eldorado. This property is so rich in history and is perfect for that romantic gateway with old world charm and modern comfort. I can compare it to European boutique hotels situated in little towns with the smells of fresh baked goods, wooden floors and old black and white photographs on the walls. The Eldorado's sister, the Manteo Resort, is accessible by a waterfront path and is perfect for meetings and vacations stays in their two and three bedroom villas. Both properties are situated minutes away from golf courses, trails, beaches, shopping, and more wineries.
On the way to my lunch stop of the day; the Harvest Golf Club, we stopped on the side of the road to speak with the local apple growers picking in their orchards for the end of the season. Nothing better than biting into that crisp and juicy apple straight off the tree! A Japanese couple owns this golf club and they have brought the flair of Japan to the Okanagan with their superbly manicured gardens and water features. The clubhouse is also perfect venue for group meetings and tournaments of up to 160 people.
Off to my last winery stop at Summerhill Pyramid Winery. I am not sure what it is about this most unique experience that touched me the most. It could have been Ryan, my sommelier, who is truly passionate about the fact that they are highly successful and award winning in organic and biodynamic wine making, or Sophie, my French connection, who was exceptionally bubbly and down to earth while wrapping my new wine goblets! My pick – their Cipes Brut. Bubbles make everything better!
My last stop enroute to the airport was the Coast Capri Hotel. Minutes from downtown and centrally located within the city, this hotel features newly renovated guestrooms and suites, full conference facilities, business center and spa. They will also be renovating their restaurant at the end of this year.
What can I say? I fell in love with Kelowna and I am so excited to go back this spring when I will lead a group of women through all of the sites and sounds. Thank you to all my new Kelownian friends for some amazing hospitality!