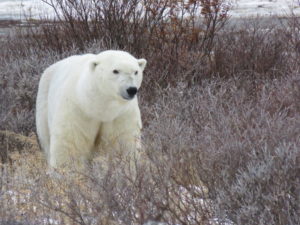 I'm going to go see some polar bears. This is going to be such an amazing adventure. It is odd, however, to think we are to embark on an adventure of a lifetime to a place where a 4L jug of milk is three times more expensive than it is where I buy milk. I've never been to such a remote place and have no idea what to expect, other than the fact that I will probably get less sleep these next two nights than I should. Who knows! Polar bears may be sleeping under my window, or the northern lights may be dancing above my head. I'm stoked.
Day one: running on little sleep, I wake up at 5:20, have a shower, repack my bag and head down to the hotel lobby. I make sure my "checked" luggage has the little blue tag and say goodbye to it. I won't see it again until I reach the Tundra Buggy Lodge. Oh yeah, that's where we're going to stay. Right on the Tundra. In the middle of nowhere. In the bus from the hotel to the plane, we watch a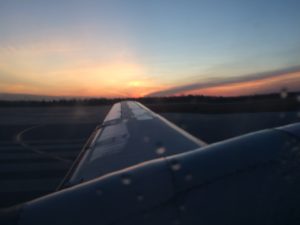 video. One line stood out to me: "it's like a reverse zoo, we're in the cage while the bears are in their natural habitat." This is going to be awesome. I always felt weird going to the zoo and felt badly for the animals like the black bear or bald eagle or the Lynx in the cages. On the one hand, it's a great way to educate people about animals that they may not be able to see on a daily basis. On the other, as free bald eagles soar over the zoo, it's almost like they're either taunting the ones in captivity or are confused as to why it can't come out and soar the thermals.
So, after a hearty breakfast and a vat of coffee to myself, my travel partner, the Fabulous Margot, and I go for a brisk morning walk as we were gearing up to sit for about three hours. Then we board the bus that takes us to our very own plane. I felt like a celebrity, sort of… ok, not really. But it was still really neat.
After driving to our taxiing position, which felt like it was long enough to have actually just driven the plane to Churchill on the ground, we waited. First a plane lands, then the plane in from of us takes off. Who knew the Winnipeg airport was that busy at 7 in the morning?! Then, like a patiently waiting younger child, it was our turn! My eyes glued to the window, I watch as the landscape starts to move by us, slowly at first, then it speeds ups and eventually begins to angle and disappear below the clouds. My ears pop as we increase our altitude. The sun is just peaking above the horizon as we soar like an eagle through the clouds. We are on our way!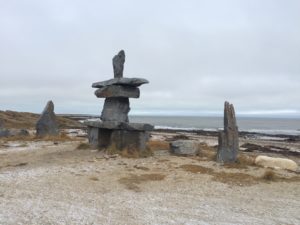 Welcome to Churchill. Welcome to the beginning of an amazing adventure! It looks cold out the plane window. An inukshuk welcomes us to this northern community. A properly placed inukshuk. Not one that wayward travellers built on the TransCanada highway on top of a rock ridge in Northwestern Ontario. But one that points north and directs travellers the right way, telling us a story of travellers past.
They take us on a bus tour around the town, showing us the shore, and the main street and where all the gift shops are. It was a lovely day outside, the sun was shining and I was happier than a polar bear in the snow.
After lunch, we were left to our own devices. Since I had my own personal tour guide, Margot, I walked through the town like I knew where I was going – I didn't. We visited the Trading Post, the Rec Centre and the Conservation Office (the latter to see how many bears they've had in town since the beginning of bear season).
At 4:30, we board a school bus (another first for me – weird, I know) and drive past the airport and the polar bear jail and past the flag trees and the old military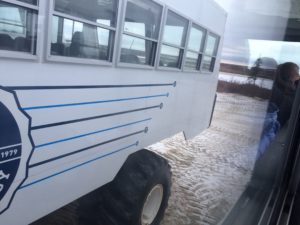 base. Until we came to the Frontiers North Tundra Buggy parking spot. We were on Buggy 12. Woah are those tired huge! We set off… at about 10 km/h… So it's slow. But slow is good in this case since we're trekking over rocky land that has been driven over for the last 30 years with big heavy tundra trucks. There are rocks and lakes to go through. At one point it seemed as though we were almost completely sideways. Our driver/guide, Kevin, was an amazing driver and very informative.
After driving for about an hour, we can see the lodge in the distance. We can see the lights. All of a sudden, in a 10km/hr sort of way, the lodge is before us. A magnificent white train of seven cars: two sleepers, one dining car, a kitchen, staff quarters, generator, and an extra car for extra people. We pull up and are assigned our sleeping arrangements. It's bunk bed style, co-ed, 20 to a car. Three toilets per sleeper car, two of which had showers.
Margot and I get assigned beds 1 & 2 on the left. So we get off the Buggy and go left. Right to the end. I get the top bunk; it was assigned that way. Our bags are already here, so I immediately find my fuzzy slippers, take off my shoes and socks and slip my feet into comfort.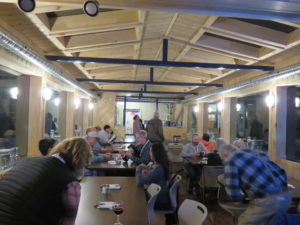 We are told we must go to the next car for an informational video about lodge safety and then dinner will be served. Naturally, we bring our wine with us and head to the next car. But not until we look outside at the POLAR BEAR WALKING RIGHT TOWARD OUR LODGE! After marvelling at the fact that we had just arrived and we're already seeing a bear, we go inside the lounge car. We watch the 5-minute safety video, get distracted by the arctic fox padding through the brush out the window, and then eat a delicious meal of Arctic char, cabbage and hummus with a dessert of raspberry shortcake and cool whip.
Pleasantly stuffed, we graciously volunteer to be the Buggy drivers in case of an emergency, of course, it seemed like the right thing to do. We need a tutorial on how to start the Buggy. The seat has very good suspension. It has to. There are a lot of bumps.
We return to the dining car for another glass of wine and some socializing. We meet Bob, the Vietnam vet from San Antonio, Anita and Mark from Colorado, and Deanna and Christopher from Toronto. I love meeting new people like this. I was even able to tell them about our lakes and fish habitats in Manitoba, something I haven't done in a long time. It felt good.