If you are a music lover, you should definitely visit Nashville, TN.  Especially now with our Winnipeg Jets playing there at least twice per season. 

It was my third time visiting a few weeks ago, and cannot wait to go back.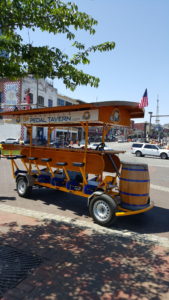 There is a wide range of performers who play nightly at the Grand Ole Opry, along with The Ryman Auditorium and the Blue Bird Cafe.  You may also want to visit the Country Music Hall of Fame,
And then take a walk through Music City Walk of Fame Park.  Nashville Nissan Stadium also hosts some big concerts along with the Tennessee Titans.
Broadway, and its surrounding area offers many options for local bars with fantastic music.  Many famous country artists have opened up restaurants/bars in the area, along with a few of the originals, such as Tootsies, Rippy's, and Second Fiddle.  If you have a chance, grab some eats at Jack's BBQ on Broadway.
There are many great hotels located in the Midtown/Vanderbilt area of town, along with Losers and Winners Bar & Grill, from the famous Toby Keith song; I Love This Bar.
Contact me if you'd like to book yourself a Grand Ole Nashville Adventure.
Until next time….Music City!