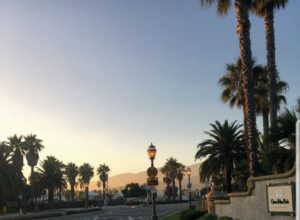 This past September my husband and I were married on a sandy beach in Santa Barbara, California. We wanted a very small ceremony and after researching online, I discovered a company in Santa Barbara called 'Weddings by The Sea' with elopement style wedding packages. So we left the approaching cold of Winnipeg and were welcomed by sunshine and ocean breeze. We started our adventure with our friendly and boisterous cab driver who picked us up at LAX – upon hearing of our wedding plans in Santa Barbara he quickly convinced us that we picked a poor location for our wedding and he tried to persuade us to stay in Los Angeles where all the 'fun' beaches were. My heart dropped slightly as I was excited to explore the acclaimed 'American Rivera' I had read about online, Santa Barbara is known for its red topped Mediterranean style buildings and coastal town. But my disappointment quickly faded as we pulled around a bend on the highway and into the city, I was greeted by a sparkling ocean expanse and brightly coloured flowers flowing down the edge of the street underpass. Away from the sea were mountains with houses built up the sides, there was a haze from the humidity and afternoon sun lingering over them, which made for a dreamy sight. I was overjoyed to discover my research for our destination was all I had envisioned it to be and more.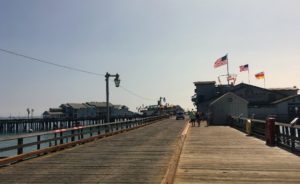 We stayed in a quaint villa which sat facing the ocean; after checking in we changed into our Californian apparel and headed straight to the ocean. It was just a quick walk across the street. There was a cement path right before the sand started where people walked, rollerbladed, and biked up and down the stretch of the beach. Next to the path stood beautiful palm trees and lush green grass. We were completely captivated by the beauty of Santa Barbara. We stopped to look at the ocean, the deep blue of the Pacific dotted with sail boats was both alluring and charming. We continued on our way to find street vendors all the way down the strip. Local artists selling paintings and jewellery. At the end of the strip there was the 'Stern Wharf Pier', which turned out to be one of our favourite spots.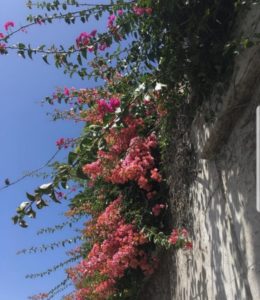 Our first meal was at a place called 'The Fish House', one of the many seafood restaurants in the city, where we sat on the patio which had a beautiful view of the ocean. We had seafood (of course!) I ordered a seafood medley – in a light tomato base was scallops, shrimp, mussels, and crab legs. As a seafood lover I was not disappointed! All of the fish is caught daily right off the ocean, we could see from where we sat boats on the water probably catching the next day's dinner! Afterwards we walked down the street to the pier, it is both foot and car accessible, which is very convenient as the pier stretches far out on the water.  There are several restaurants on the pier, The Stern's Wharf is a fancier restaurant which we ate at on our wedding night, during the day we headed upstairs to the Longboard's Grill for lunch, and the roof balcony for coffee in the evenings which overlooks the sea and mountains. There are also souvenir shops, an ice cream parlour, a Sea Museum, and a fishing station at the very end of the pier. Families sat together with fishing lines dangling over the edge of the pier, enjoying ice cream while watching sailboats float by, couples walked by soaking up the afternoon sun, travellers taking photos and boarding local ocean tours on the water taxi.
After exploring, we headed back to our hotel in preparation for our wedding the next morning. We woke up bright and early and wrote each other's vows over breakfast. Afterwards we met with our wedding planner, photographer and wedding officiant and walked down to the beach. We took in the beauty of the day that would soon be the best of our lives; the morning was overcast with a slight breeze in the air, there was a morning haze that lingered over the water and sailboats slowly drifted across the horizon. We stood on the sand and said our vows with waves washing over our feet. It was truly a beautiful place to be married, and I couldn't have been happier with our wedding by the sea.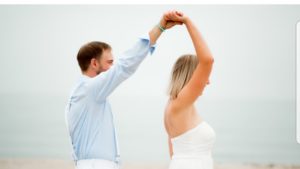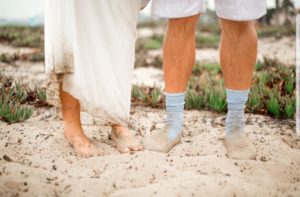 After the ceremony I had an idea – I asked the photographer if we could 'trash the dress' which if you don't know, is when you essentially sacrifice your dress in place of a more adventurous photoshoot. I looked at my husband with a smile, we both ran and jumped right into the oncoming waves. It was so much fun, and it resulted in unique and beautiful photos. I would definitely recommend this to anyone who wants to stray away from the traditional wedding photos.
With no guests to entertain or reception to hold, we went back to our hotel to change and explored downtown Santa Barbara. We took a walk down State Street, which is a long strip filled with boutiques, restaurants, and cafes. Many of the buildings are painted white with red tile roofs which made me feel like I had sailed right into the French Riviera. Brick sidewalks with trees sprouting from beneath the surface and brightly coloured pink and orange flowers blossomed over buildings creating a captivating Mediterranean feel. We truly fell in love with Santa Barbara. We loved it so much that we called our next destination's hotel to push our arrival a day back so we could enjoy another full day there.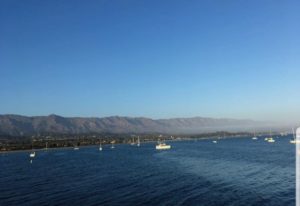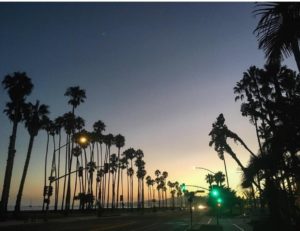 During our stay we also spent an afternoon at a sea centre and ocean museum; there were aquariums with sea life including stingrays, nurse sharks, and jelly fish. As well as a touch tank with starfish and history and fossils of the local sea life. My husband 'stumbled' upon Santa Barbara Zoo, I say this because one morning while he was out for a walk, he got lost, and ended up following signs that read 'zoo' until he found it. Humour aside, the zoo was incredible, a gem tucked away and not really advertised at all. They had amazing exhibits and several animals I had the pleasure of seeing in person for the first time. It was the perfect place for a family day out. There were many other things Santa Barbara had to offer but sadly we couldn't do it all in our three day stay.
On closing, if you ever have the chance to take a trip to Santa Barbara – I can promise you breathtaking land and seascapes, the opportunity to travel to vineyards and museums, plenty of delicious food, adventures on the water and the sand, friendly locals and the opportunity to soak up the California sun of this coastal town.