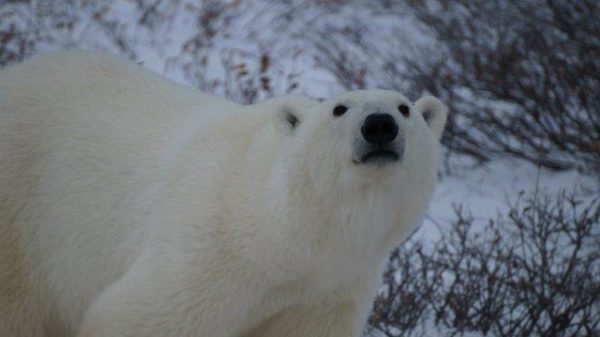 Allison Silvaggio is one of our adventurous Travel Consultants at Great Canadian Travel and, like you, she loves the Polar Bears. She's been to Churchill, Manitoba to see the polar bears and is an expert in having the best polar bear adventure experience. Allison travelled to Churchill and has some great tips to pass along to anyone planning to travel to see the polar bears.
Where you stay is part of the experience.
Seeing the bears is important, but where you stay can make a difference, too! Staying in Churchill is terrific. There are accommodation options in Churchill to choose from depending on your travel style and budget. But if you're looking for a bigger and better adventure, stay at Polar Bear Point in the Tundra Lodge. Unlike the hotel stay in Churchill, which is an hour or so away from the tundra, the lodge is right in the Wildlife Management Area on the Arctic tundra north of Churchill. Imagine waking up early, having breakfast, dressing up, and heading out to see polar bears at sunrise. It's not something you want to miss! And at the end of your day, instead of riding back to Churchill, you can spend some the extra time out on the tundra looking at the wildlife, and relaxing. Ah, the scenery…you really do want to maximize your stay out there and, if you're lucky, take in the northern lights for a truly northern experience.
A photographers dream!
Near the end of the season, each November, there are a few options for photography trips that are guided by professional photographers. Normally the tundra vehicles seat 36 people, but on these trips the groups are divided into smaller numbers to ensure that everyone has a window seat. Photographers get perfect shots of the polar bears from their seat and can get out on the platform to get those perfect zoomed in shots. And if taking pictures of the northern lights is your thing, this is your perfect opportunity!
Bucket-list and "to-do list" time!
Allison finds that a lot of the people who travel with us to see the polar bears are looking for that big "WOW" experience. This is their bucket-list, their "I've-always-wanted-to" dream trip. For others it may be one trip in a long line of interesting trips they've been on, like whale watching or Arctic cruises. Those interested in environmental changes, wildlife and nature, and challenging themselves to do something really different love traveling with us to Churchill, Manitoba.
How long should you go for?
Well, the big question should really be "how much time do you want?" Allison recommends that you book a polar bear adventure that gives you at least two to three days on the tundra. "On one trip when we got there the first day we saw a lot of bears and it was wonderful, and you want more! On the second and third day the bears were everywhere! They came up to the tundra vehicles and put their big paws up on the back platform, it was terrific. I really recommend you spend as much time out there as you can if you're already spending the money to see the bears, their cubs, and see them sparring and living in their natural habitat."
Don't forget to pack your…..
Of course, with this kind of amazing trip the one thing you really need to put at the top of your packing list is extra batteries and chargers for your cameras! Along with this, remember to pack good warm clothing. Allison says, "The vehicles are really cozy, but when we see those bears the windows are coming down and the wind off the bay can be chilly!" Dress warm, wear layers, hats, and scarves. And when it comes to gloves, Allison's big tip is to wear gloves you can use your camera with and have a thicker, warmer pair to wear when you're out in the open for an extended period of time."
A polar bear adventure can be the trip of a lifetime. Relax and get ready to have a LOT of fun! Our travel consultants will help you choose the perfect polar bear trip to remember for a lifetime.