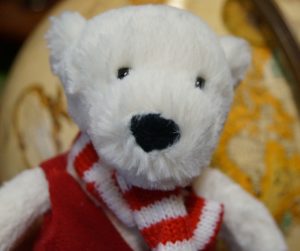 Hi there!
Let me introduce myself. Well, I don't actually have a name yet (but you can enter the contest to give me a name), so let's just call me Great Canadian Bear for now. Although I'm only a few months old, I've been on all sorts of amazing adventures already. You see, I am The Great Canadian Travel Group's newest team member. It all started with an idea to have a travel companion for all adventures the consultants go on. You know, to travel by yourself is great, but sometimes you just need a little bear to cuddle.
So, when I saw the job posted on the Polar Bears Wanted website, I could bearly contain my excitement. I applied and got the job! I was sad to leave my home in Canada's Arctic, but the move to the big city has been really interesting, with lots of new experiences!
First step was to get me some clothes. I couldn't go on adventures bear naked! That would be completely embearassing! So our in-house seamstress, Lois, set to work making me pants, a sweater, hat, boots and mitts for when I was in colder climates, and a little bathing suit for those times that it would have been unbearable to wear my winter accoutrements in the pool or ocean.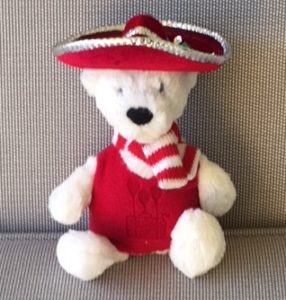 For my first outing, I didn't know what to wear, so I wore my new sweater. My first trip was to Cancun with Suzanne. It was great, but I started off getting stuck in a zippered clear bag and stuffed into a suitcase. The flight was bumpy in the cargo area and eventually, after having made a pit stop for a few days in Toronto, I felt the sun on my snout and the sand on my paws. Suzanne took very good care of me and let me hibernate for the night on my very own bed! It was like a giant cloud. I spent my days lounging on the beach, having a bath in the Jacuzzi tub, and hanging out in my very own special beach seat. And check out my nifty sombrero! Because I was underage at the time, I only had virgin Polar Beartinis and met this really nice Bearista who made me lots of caffeinated beverages so I could keep up with Suzanne. I realized that the zippered clear bag was only to keep the sand from matting my fur. Suzanne took care of me beary well.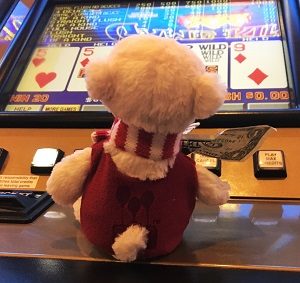 Next up was the city that never sleeps, Las Vegas! I never won anything, but I sure had fun. Chris took me with her so that I could see the lights on the Vegas strip. When we arrived, it took me awhile to get my bearings because there was so much to look at. But once I did, I bearly slept because there was so much to see and do!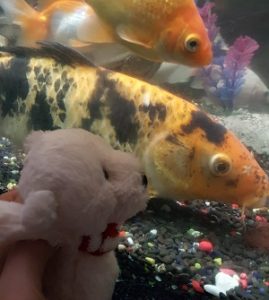 Staying with the warm, tropical theme (whew, it's getting pretty hot for a polar bear!), Natalie took me on a whirlwind adventure to Costa Rica. I didn't really have time to paws and reflect on what we were doing because it was such a quick trip, but a trip nonetheless. I spent the whole time bearfoot on the beach, letting the sand squish between my claws. Natalie showed me some fish, but was the bearer of bad news when she told me that I couldn't eat these particular ones. They did look tasty, though! She did find me some fruit-bearing trees and told me that I could eat the bearries. I even picked them with my own bear hands!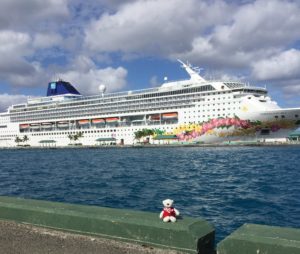 I bearly had time to wash my clothes and repack before taking off to Nassau in the Bahamas with Margot, where we got on a big cruise ship. That's me "Sittin' on the dock of the bay…".
We sure had fun doing all of the on-board activities (I loved the water slides and pools), some shore excursions to neat places and eating lots of food – there was fish on the menu every single meal, so I was very happy!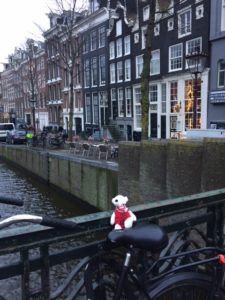 Next stop was over the Atlantic Ocean with Pearl on her adventure to Amsterdam via Iceland. A huge change of climate from my previous adventures, but it was more bearable because I am, of course, a Polar Bear. The stopover in Iceland was a little too quick for me to wake up from my jetlag, BUT I hear it was unbearably cold for Pearl in the 4 hours of daylight she experienced there. So off to Holland I went tucked in Pearl's carry-on luggage. If it was carrion luggage, I would have had a nice little snack on the plane, but apparently road kill isn't allowed on a Trans-Atlantic flight. Who knew?! Anyway, it was super rainy in Amsterdam, but I was able to take in some lovely Dutch scenery while riding a bicycle through the cobblestone streets past the rows of beautiful houses beside the canal.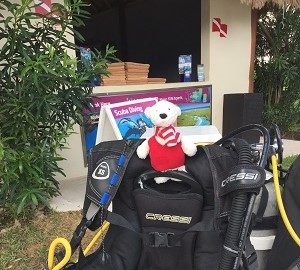 When I got back from Amsterdam, I had a few days of rest before I was off to Cancun again! This time, Margot and Ian treated me to a warm Christmas, not that I've ever experienced any other Christmas… It was lovely to be able to spend some time relaxing on the beach and to go scuba diving…oh, all those fish….yum!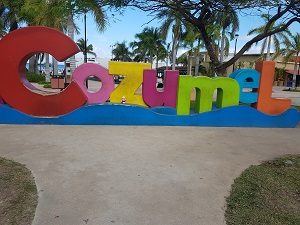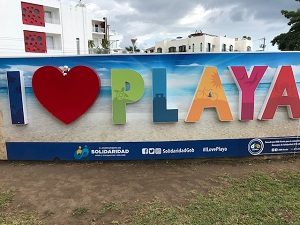 Then, I went to Cozumel and Playa del Carmen with Sylvia and her family. Can you see me sitting in front of the "Z" in the Cozumel sign and on the heart in the "I Love Playa del Carmen" sign? More sun, more fun, more sand, more Beartinis…I have to keep shaking my head or pinching myself to make sure I'm not dreaming. Am I really getting paid for this dream job?
Whew, that was my 2017! Like I said, even though I am only a few months old and have just been hired on at Great Canadian, I have been on some pretty sweet adventures with some beary awesome consultants. I think that I've joined a great sleuth of travel bears… I mean travel consultants. I can bearly wait until my next adventure. I wonder where I'll go in 2018? Keep an eye out for my upcoming blogs!