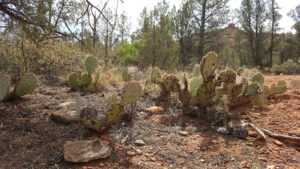 After visiting Sedona, AZ three times, I now confirm that this is one of my favorite places.  With everything from a wide range of accommodation, to amazing restaurants and fun souvenir shopping.
However, my favourite thing to do in Sedona is to hike and enjoy the breathtaking scenery all around.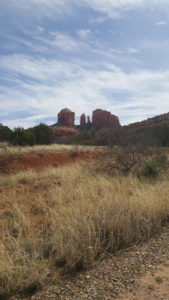 Two years was the last time that our family had visited, and we ventured out on about a 90 minute hike to Oak Creek, with beautiful orange rock formations in the distance.  And now two years later, with my kids now being 9 & 12 years old, we decide to hike the Cathedral Templeton Trail and explore a bit further.  The hike is kid friendly with spectacular views, pear cactus, caves and rock art.  There are many places to stop and relax and take it all in.
Sedona also offers fantastic golf courses, biking trails and desert tours, along with some fantastic restaurants.  If staying in Oak Creek (about 15 minutes from Sedona), you may want to visit the Corner Table, and Cucina Rustica (reservations are needed).  While in Sedona, we visited the Cowboy Club & Grille along with the Black Cow Café for amazing ice cream & desserts.
If you'd like to book a hiking trip to Sedona, contact me and I'll help you plan your hiking adventure.